Celecoxib was approved nearly 20 years ago by the USFDA for the treatment and prevention of some forms of colorectal cancers, including familial adenomatous polyposis and sporadic colorectal adenoma. The anticancer effects of celecoxib were claimed due to its potential for inhibiting the enzyme, COX-2 in the CRC cells[23,161-163]. COX-2 (also known as prostaglandin-endoperoxide synthase 2) uses arachidonic acid to produce the prostaglandin H2 required to synthesize the prostanoids including thromboxane, prostaglandins such as PGE2 and prostacyclin. COX-2 is overexpressed in many cancer cell types, including CRC[164] when compared to levels in the corresponding normal cells. Moreover, COX-2 was recently detected in the CTC populations from CRC patients, where COX-2 expression was associated with those tumor CTCs positive for vimentin and Twist as two markers detected co-expressed at a higher frequency in patients with metastases compared to those without (72.0% vs. 42.8%)[165].
The role of COX-2/PGE in CRC and relationship to LGR5/WNT activation and survival of CSCs
The tumor cell inhibitory mechanism of celecoxib was proposed to involve counteracting the increased levels of COX-2 enzymatic function in colorectal cancer cells [Figure 3], thereby causing the suppression of cancer cell growth ([166], reviewed in[167]). As outlined above, one of the mechanisms of action by inhibiting COX-2 likely involves interfering with the WNT/PGE2 signaling pathways that would otherwise promote greater levels of LGR5 and cancer cell stemness. Among the tumor-sustaining prostaglandins produced by COX-2, PGE2 is associated with enhancing cancer cell survival, growth, migration, invasion, angiogenesis, and immunosuppression[168] and can act in an autocrine/paracrine manner to promote tumor growth and survival[169][Figure 3]. Inhibiting COX-2 with celecoxib would thereby block the growth stimulating effects derived from the COX-2 production of prostaglandins as cytokine-like factors stimulating growth, CSCs and metastases[170,171]. Levels of PGE2 correlate with colonic CSC markers (CD133, CD44, LGR5, and SOX2 messenger RNAs) in human colorectal carcinoma samples suggesting that it is a marker for CR-CSC[171]. Thus, PGE2 induced CSC expansion by activating nuclear factor-kappa B (NF-κB) via the PGE2 receptor 4 (EP4) and PI3K/MAPK signaling, promoting the formation of liver metastases by colorectal cancer cell lines injected into mice[171].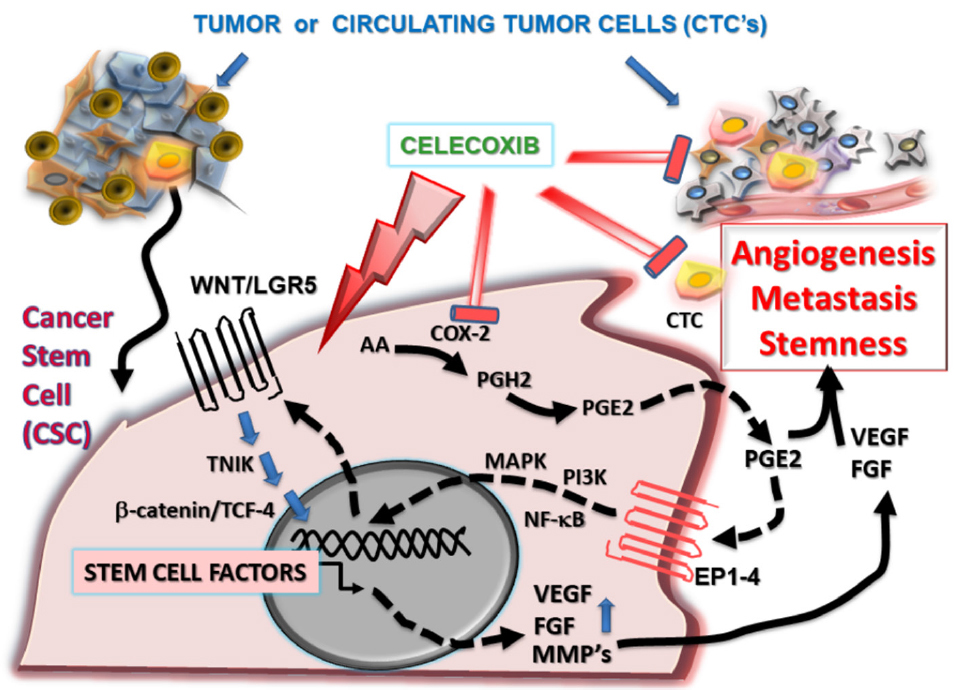 Figure 3. Celecoxib prevents CSC growth and tumor angiogenesis by inhibiting the COX-2/PGE2/VEGF and WNT/LGR5 stemness pathways. COX-2 is required for the production of prostanoids, including PGE2, which is released by tumor cells and stromal cells. PGE2 acts in an autocrine/paracrine manner binding to surface members of the prostanoid receptor family (EP1-4) to increase cancer cell stemness, angiogenesis (via production of VEGF and FGF), invasiveness (via matrix metalloproteinases MMP-2, MMP-9) and thereby promotes tumor metastasis. Celecoxib is an anticancer drug that is cytotoxic for CSCs, inhibiting COX-2/PGE2 production and stemness, thereby down-regulating the WNT/LGR5 signalling pathway, inhibiting angiogenesis and promoting the anticancer immune response. CSC: cancer stem cell; CTC: circulating tumor cell; VEGF: vascular endothelial growth factor; FGF: fibroblast growth factor; COX-2: Cyclooxygenase-2; PGE2: prostaglandin E2; PGH2: prostaglandin H2; TCF-4: T-cell factor-4; TNIK: Traf2- and Nck-interacting kinase; AA: arachidonic acid
Angiogenesis is one of the classical hallmarks of cancer, promoting new blood vessel formation from pre-existing vessels, thereby facilitating the supply of blood borne nutrients and oxygen to the tumor cells[172]. As early as 1999, celecoxib was recognized as an important chemotherapeutic agent in colorectal cancer treatment[173] because of its ability to potently inhibit angiogenesis by preventing vascular endothelial growth factor (VEGF) and FGF production, reducing growth of gastrointestinal cancer xenografts in nude mice[174]. COX-2/PGE2 activation increases VEGF expression by colon cancer cells, thereby promoting tumor angiogenesis (reviewed in[175,176]).
Evidence for COX-2/PGE playing a role in many other cancer types besides CRC and is a CSC drug target
These early findings have since been confirmed in many subsequent studies of other cancers as well including lowering microvessel density in gastric cancer models by inhibiting COX-2 mediated PGE2 production and VEGF expression[177,178], and in head and neck[179], pancreatic[180], Lewis lung cancers and sarcomas[181] (reviewed in[182]). In more recent studies of dimethylhydrazine-induced colorectal cancer models, NSAIDs like celecoxib decreased the rate of adenocarcinomas, markedly lowering angiogenesis parameters including VEGF, MMP-2, MMP-9 and MCP-1 levels[174,183]. More importantly, inhibiting COX-2 with celecoxib was found to block the PGE2-induced tumor repopulating capacity, which otherwise promoted chemoresistance in bladder cancer xenografts[184] as well as CSC expansion and metastasis in colorectal cancer models[171].
The role of COX-2 in CSC survival and repopulation after therapy has been reviewed elsewhere[185], such that it has become clear that inhibiting COX-2 is an effective method for preventing treatment failure due to tumor repopulation. Moreover, celecoxib, as a selective COX-2 inhibitory drug, has also been reported to promote the apoptosis of colon cancer cells[186]. The prostaglandin, PGE2 produced by COX-2 activates pro-survival pathways preventing apoptosis of colon cancer cells[187] (reviewed in[168,188]). Celecoxib, by inhibiting COX-2 facilitates the activation of various apoptotic pathways in colorectal cancer cells, including p53, p38 and BAX pathways[189].
Another aspect of the prostaglandins produced by COX-2 activity is that some, such as PGE2, are pro-inflammatory cytokine-like factors that modulate the anticancer immune response[190]. Celecoxib's anticancer inhibitory effects (resulting from lower prostaglandin levels) also include promoting an enhanced immune response. Thus, celecoxib inhibition of COX-2 prevents the switching from a Th1 to a Th2 immune response, where Th2 would be more favorable to cancer cell survival. The immune response switch to Th2 is induced by increased levels of COX-2 which also leads to decreased production of the NF-κB activated cytokines that would otherwise induce Th1 proliferation, including interferon gamma (IFN-γ), tumour necrosis factor-alpha, and IL-2. Moreover, COX-2 activity promoted expression of cytokines including IL-6, IL-4, and IL-10 which preferentially activate Th2 type immune responses[191], thereby enabling the cancer cells to evade the host immune system.
Tumor-associated COX activity in a mouse melanoma model driven by oncogenic mutation in Braf (similar to the situation in human melanoma) was shown to be a key suppressor of type II IFN (IFN-γ) and T cell-mediated tumor elimination, inducing an inflammatory signature more typically associated with cancer progression[192]. COX-dependent immune evasion was also shown to be critical for tumor growth in a range of models including melanoma, colorectal, and breast cancers[192]. Notably, tumor immune escape could be reversed by a combination of an immune checkpoint blockade inhibitor together with COX inhibitors. Hence, the COX-2/PGE pathway can promote tumor growth, survival and evasion of the immune response and highlights the importance of using NSAIDs such as celecoxib to inhibit the COX-2/PGE based activities in tumors.
We have shown that celecoxib has a fourth component to its anticancer function based on direct effects in killing cancer cells by targeting their mitochondria to increase the respiratory substrate driven production of reactive oxygen species such as superoxide, thereby activating the intrinsic apoptotic pathway[23,193]. Although many of the NSAIDs show similar properties and ability to act as cytotoxic anticancer drugs (reviewed in[194]), celecoxib was found to be by far the most outstanding[23,193] and was highly effective at inhibiting growth of triple negative breast cancer spheroids[195]. In this regard, in many animal models of cancer, celecoxib has been shown to chemosensitize cancer cells in a synergistic manner to enhance the cytotoxic effects of commonly used chemotherapies, such as the anthracycline drugs doxorubicin and epirubicin[196-200] and platinum-based chemotherapies[164,199,201-206]. In murine models of colorectal cancer, synergistic anticancer effects were obtained by combining celecoxib with the common CRC chemotherapeutic drug, 5-fluorouracil (5-FU)[207] or with oxaliplatin[208].
In human hepatomas, Chu et al.[209] showed that celecoxib promoted death of the CSC population and suppressed stemness and progression by up-regulating the tumor suppressor function of the tyrosine phosphatase, PTEN. In related studies[84,210], celecoxib was shown to target CSCs and suppress their self-renewal, sensitizing them against chemoresistance as well as inhibiting their EMT. Further, these studies showed that celecoxib attenuated metastasis and tumorigenesis by inhibiting the synthesis of PGE2, thereby down-regulating the WNT/LGR5 pathway activity, including for colorectal CSCs[84]. Hence, celecoxib has shown a range of highly beneficial and intriguing properties as an effective anticancer drug in animal tumor models and provides an example of a drug affecting the WNT/LGR5 signaling pathway in CSCs to prevent CSC survival and metastasis.
Clinical studies of colorectal cancer patients receiving treatment with celecoxib over the long-term for several years have been successfully completed[211-214]. In most of these studies, celecoxib was used in combination with chemotherapy and showed significant improvements with inclusion of celecoxib, resulting in decreased rates of metastases and incidence of recurrence. In a large trial from 2006, the results of the Adenoma Prevention with Celecoxib (APC study) showed that continued dosing (400 mg) of celecoxib daily in patients diagnosed with colorectal polyposis and treated over prolonged periods of three years significantly decreased the recurrence of adenoma and advanced adenoma, when compared to placebo[215]. In follow-up studies, it was reported that although the effects of celecoxib diminished two years after treatment was halted, there was still a considerable treatment benefit at five years[216,217]. Overall, the risk for advanced adenoma relative to placebo was lowered by 52% on low-dose 200 mg bi-daily (vs. 57% at 3 years) and 51% on high-dose 400 mg bi-daily (vs. 66% at 3 years)[217]. Hence, long term use of celecoxib has consistently proven to significantly lower the formation of advanced colorectal cancers in such studies.
We have previously extensively reviewed the outcomes of human clinical trials with celecoxib to treat cancer and which have often shown that sustained, long-term use over several years provided significant benefits in terms of patient outcomes, particularly against metastatic recurrence of cancers[23]. To summarize from the trial outcomes, unfortunately many such clinical trials underway during the last decade suffered from being prematurely terminated because of the growing recognition at the time of cardiotoxic side effects associated with the use of certain COX-2 inhibitors (coxibs), such as Vioxx (rofecoxib)[218]. Although this resulted in a total ban for Vioxx, elevated cardiotoxicity was ruled out for celecoxib in 2015, when it was approved by the USFDA after it was found to be as safe as ibuprofen or naproxen[219]. As an example of one prematurely terminated study, a Phase II trial was reported in 2018 concerning the effects of celecoxib (400 mg twice daily, every day) plus or minus chemotherapy with IFL (irenotecan, 5-fluorouracil (FU), and leucovorin; each cycle comprising IFL over 4 weeks then 2 weeks with no IFL) for previously untreated or unresectable metastatic CRC confirmed by biopsy[155].
Unfortunately, because the Phase II trial was prematurely terminated, only short-term use of celecoxib in patients could be analyzed with follow up to 2 years, and which would not be expected to show significant effects based on the earlier findings outlined above. This Phase II study was further complicated by a protocol variation with the inclusion of 81mg aspirin added with celecoxib to mitigate against possible cardiotoxicity in the high-risk cardiovascular subjects. This trial was limited to a median of three treatment cycles (a total of ~ 20 weeks of daily celecoxib). Nevertheless, the results showed promise in that PFS and overall survival (OS) of patients was improved at 8.7 and 19.7 months, respectively when compared to the historical IFL alone treated controls of 7 and 15 months. After modifying the study protocol, the overall survival was ~91% at one year and 50% at 2 years (median OS = 24.2 months), and the authors could not exclude the possibility of added survival benefit with celecoxib slowing progression of disease. A larger, multicentred Phase III trial (Alliance/SWOG C80702) is underway with FOLFOX (5-FU + oxaliplatin + folinic acid = leucovorin) every 2 weeks for 24 weeks, plus celecoxib (400mg daily treatment extended to 3 years) with longer term follow-up to include 6-year survival and will complete in December 2019.