Abstract
Cancer is a systemic disease. In order to fully understand it, we must take a holistic view on how cancer interacts with its host. The brain monitors and responds to natural and aberrant signals arriving from the periphery, particularly those of metabolic or immune origin. As has been well described, a hallmark of cancer is marked disruption of metabolic and inflammatory processes. Depending on the salience and timing of these inputs, the brain responds via neural and humoral routes to alter whole-body physiology. These responses have consequences for tumor growth and metastasis, directly influencing patient quality of life and subsequent mortality. Additionally, environmental inputs such as light, diet, and stress, can promote inappropriate neural activity that benefits cancer. Here, I discuss evidence for brain-tumor interactions, with special emphasis on subcortical neuromodulator neural populations, and potential ways of harnessing this cross-talk as a novel approach for cancer treatment.
Keywords
Breast cancer, hypothalamus, immunometabolism, sympathetic nervous system, neuromodulators
Introduction
Uncovering the relationships among cancer and the physiology of its host has cemented the notion that cancer is a systemic disease. Cancer patients frequently experience systemic symptoms like depression, sleep disruption, cognitive impairment, appetite and metabolic dysfunction, and weight loss. These phenomena span different cancer types and occur independently from treatment regimens. Clinical studies consistently report that such symptoms (such as weight loss, sleep disruption, and circadian misalignment) are predictors of poor prognoses and reduced quality of life[1-5]. Tumors are capable of altering local macronutrient contents that modulate infiltrating immune cell function resulting in aberrant inflammation. Additionally, they secrete metabolic "waste", which can promote inflammation and alter the function of distal organs and tissues such as the liver and brain[6-10]. As evidence accumulates, we are learning that many of these cancer-associated co-morbidities are (at least in part) due to deregulation of normal brain function by the cancer itself, cancer treatment(s), or other factors.
Reciprocally, the host system can influence tumor growth and metastasis via immune, endocrine, and neural pathways. For example, chronic stress, which results in dysregulation of glucocorticoid and adrenergic signaling, exacerbates tumor growth and angiogenesis[11,12]. Additionally, chronic sleep fragmentation, resulting in top-down impairments to the immune system, further promotes tumor growth[13]. The objective of this review is to provide an up-to-date overview of cancer as a systemic disease from a basic science perspective [Figure 1]. Special focus will be given to subcortical neural populations that are sensitive to signals arriving from peripheral tissues and the environment, as well as those that send long-range projections to modulate immune or metabolic function, ultimately facilitating cancer growth and/or metastasis. Through understanding these brain-tumor interactions, potential undescribed drug or lifestyle targets will be uncovered. Additionally, these studies would open up space for existing therapies to be repurposed for effective cancer treatment (as is the case with the anti-obesity drug Metformin[14,15].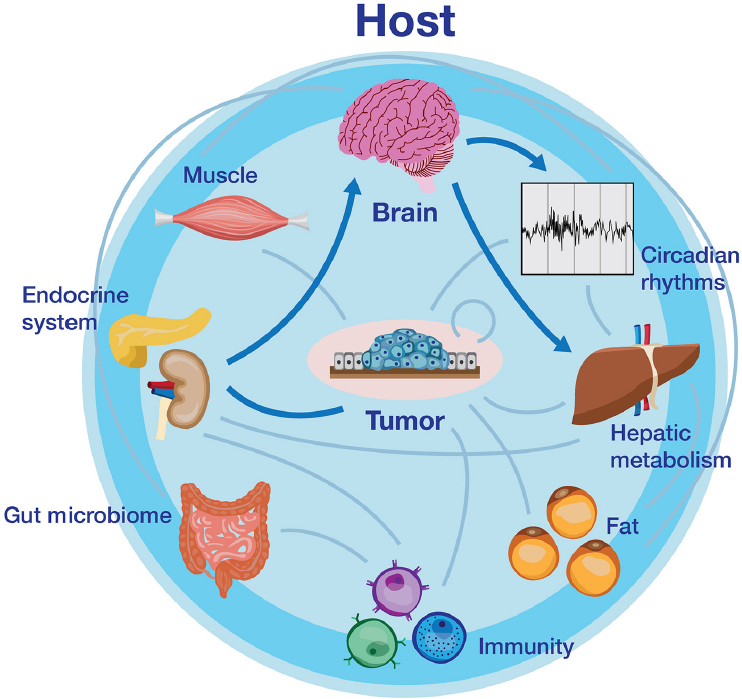 Figure 1. A simplified schematic of reciprocal tumor-host interactions. Tumors promote aberrant physiology via alterations to the immune system and secretion of metabolic "waste" which contributes to further inflammation and altered function of distal organs, including the brain. Feedback from the brain (neural or humoral) can subsequently exacerbate tumor-associated immune and metabolic changes, ultimately facilitating tumor growth, angiogenesis, metastasis, or cancer-associated co-morbidities
Neural circuitry deregulated in cancer
Conclusions and implications
Together, the studies discussed above aim to provide an understanding of the types of inputs the brain receives, the signals it propagates, and the effects of these messages on tumor growth and metastasis. Reciprocally, tumor-induced changes in physiology are relayed to the brain via endocrine, immune, or neural signals that ultimately change the activity of discrete neural populations important for maintaining homeostasis. Resolving the "conflict of interest" between cancer and the brain will undoubtedly lead to improvements in patient quality of life and unlock a novel means for cancer treatment. A summary of these findings from basic science are presented in Table 2.
In this vein, treatments targeting the circadian system (i.e., chronotherapy) have gained significant traction in recent years[113,114]. These approaches leverage natural circadian rhythms in metabolism and detoxification systems to schedule chemotherapy or radiotherapy to coincide with times of peak effectiveness with the lowest potential for side-effects. Animal models have further demonstrated that this approach can effectively limit hepatic toxicity and the inflammatory response to chemotherapeutics[115,116]. Artificially boosting circadian rhythms (e.g., with nobiletin) adds an additional prospective anti-cancer strategy[64].
Alternatively, targeted stimulation of specific brain areas deregulated in cancer may help overcome resistance to more traditional treatment strategies. As discussed above, stimulation of the dopaminergic ventral tegmental area promotes tumor suppression via the sympathetic nervous system[87]. If findings such as these translate to humans, deep brain stimulation protocols could be adapted for adjuvant cancer treatment. For example, deep brain stimulation of the subthalamic nuclei for Parkinson's disease promotes sympathetic activation in a safe and reversible manner[117,118], a procedure that could be repurposed in the context of advanced cancer. Alternatively, biobehavioral therapies can be designed to promote positive thinking and rewarding experiences (to activate the dopaminergic system) to aide in cancer suppression. Indeed, mindfulness meditation has been demonstrated to improve mood, reduce stress, and attenuate inflammation in patients with breast cancer[119].
As cancer drastically alters energy balance, influencing the activity of specific brain nuclei regulating metabolism and food intake (e.g., hypocretin, AgRP, POMC, CGRP neurons) represents a strategy to not only improve quality of life, but limit energy availability to the cancer. Indeed, inhibition of aberrant hypocretin/orexin signaling promotes sleep and attenuates tumor-induced metabolic abnormalities in a mouse model of breast cancer[6]. Repurposing drugs that modify food intake and energy balance (e.g., metformin) further provides additional avenues for adjuvant cancer therapy. However, significant more research is needed to understand both (1) how the brain influences cancer-associated immune populations and (2) how the tumor communicates with the brain to deregulate homeostasis and health. Only then can we begin to manipulate this cross-talk to facilitate cancer elimination.
Declarations
Acknowledgments
I thank Drs. Luis de Lecea and Natalie Nevárez for providing critical critiques during the preparation of this manuscript. I thank Dr. Peter Dong for making the illustrations featured in this manuscript. This review was made possible thanks to a BRAIN Initiative NIMH F32MH115431. All efforts were made to include relevant research, failure to do so is the sole responsibility of the author.
Authors' contributions
Borniger JC contributed solely to this study.
Availability of data and materials
Not applicable.
Financial support and sponsorship
This study was supported by NIMH BRAIN Initiative (F32 MH115431).
Conflicts of interest
The author declared that there are no conflicts of interest.
Ethical approval and consent to participate
Not applicable.
Consent for publication
Not applicable.
Copyright
© The Author(s) 2019.
Cite This Article
OAE Style
Borniger JC. Central regulation of breast cancer growth and metastasis. J Cancer Metastasis Treat 2019;5:23. http://dx.doi.org/10.20517/2394-4722.2018.107
AMA Style
Borniger JC. Central regulation of breast cancer growth and metastasis. Journal of Cancer Metastasis and Treatment. 2019; 5:23. http://dx.doi.org/10.20517/2394-4722.2018.107
Chicago/Turabian Style
Borniger, Jeremy C.. 2019. "Central regulation of breast cancer growth and metastasis" Journal of Cancer Metastasis and Treatment. 5: 23. http://dx.doi.org/10.20517/2394-4722.2018.107
ACS Style
Borniger, JC. Central regulation of breast cancer growth and metastasis. J. Cancer Metastasis. Treat. 2019, 5, 23. http://dx.doi.org/10.20517/2394-4722.2018.107