Immunomagnetic beads-based isolation
The most widely used enrichment method is a positive selection method based on the epithelial cell adhesion molecule (EpCAM) antibodies[5-7]. So far, CellSearch System (Menarini Silicon Biosystems, Italy) is the first and also the only one being up to the standard of US Food and Drug Administration (FDA), which consists of the CellTracks Autoprep and the CellSearch Epithelial Cell kit, integrating EpCAM based immunomagnetically enrichment, 4',2-diamidino-2-phenylindole (DAPI) based cell nuclei staining, CD45-Allophycocyan specified leukocyte negative selection and cytokeratin 8,18,19-Phycoerythrin specified epithelial cells positive selection into an objective indicator (EpCAM+, DAPI+, CD45-, cytokeratin+) of CTC counts. In 2004, it was cleared for monitoring the outcome of therapies and optimizing clinical decision for breast cancer; later, it was also cleared for use in prostate and colorectal cancers. Through the CellSearch, which has become the benchmark for all other CTCs isolation methods, CTC counts have been associated with prognosis for progression-free survival (PFS) and overall survival (OS) in these three kinds of metastatic cancer[8-10].
Although clinical correlations have been identified, methods for large scale isolation of CTCs from peripheral blood are lacking, therefore, efforts have been focused on improving the isolation sensitivity and efficiency. Talasaz et al.[11], reported a magnetic sweeping device (MagSweeper, Stanford University, Stanford) consisting of a nonadherent plastic sheath covered magnetic rod with anti-EpCAM antibody functionalized beads, allowing for a ~60% capture efficiency to target cells and a purity of 100% for HLA-A2 cells. Ephesia technology integrated anti-EpCAM functionalized self-assembled magnetic beads with microfluidics, demonstrating a capture efficiency > 94%[12]. Similar immunomagnetic platforms [Figure 2A] also included the Magnetic Sifter with magnetic pores incorporated into a microfluidic chip[13]. Moreover, compared with CellSearch system, Adna Test (Qiagen, Hannover), a highly specific immunomagnetic cell-isolation system, with its improved antibody cocktails provided an effective approach to increase the efficiency of CTCs capture and complements the CellSearch for detection of CTCs[14]. Mayo et al.[15] utilized MACS cell separation platform (Miltenyi Biotec) based on a mixture of cytokeratin (CK) coated magnetic beads to isolate CTCs in lung cancer patients.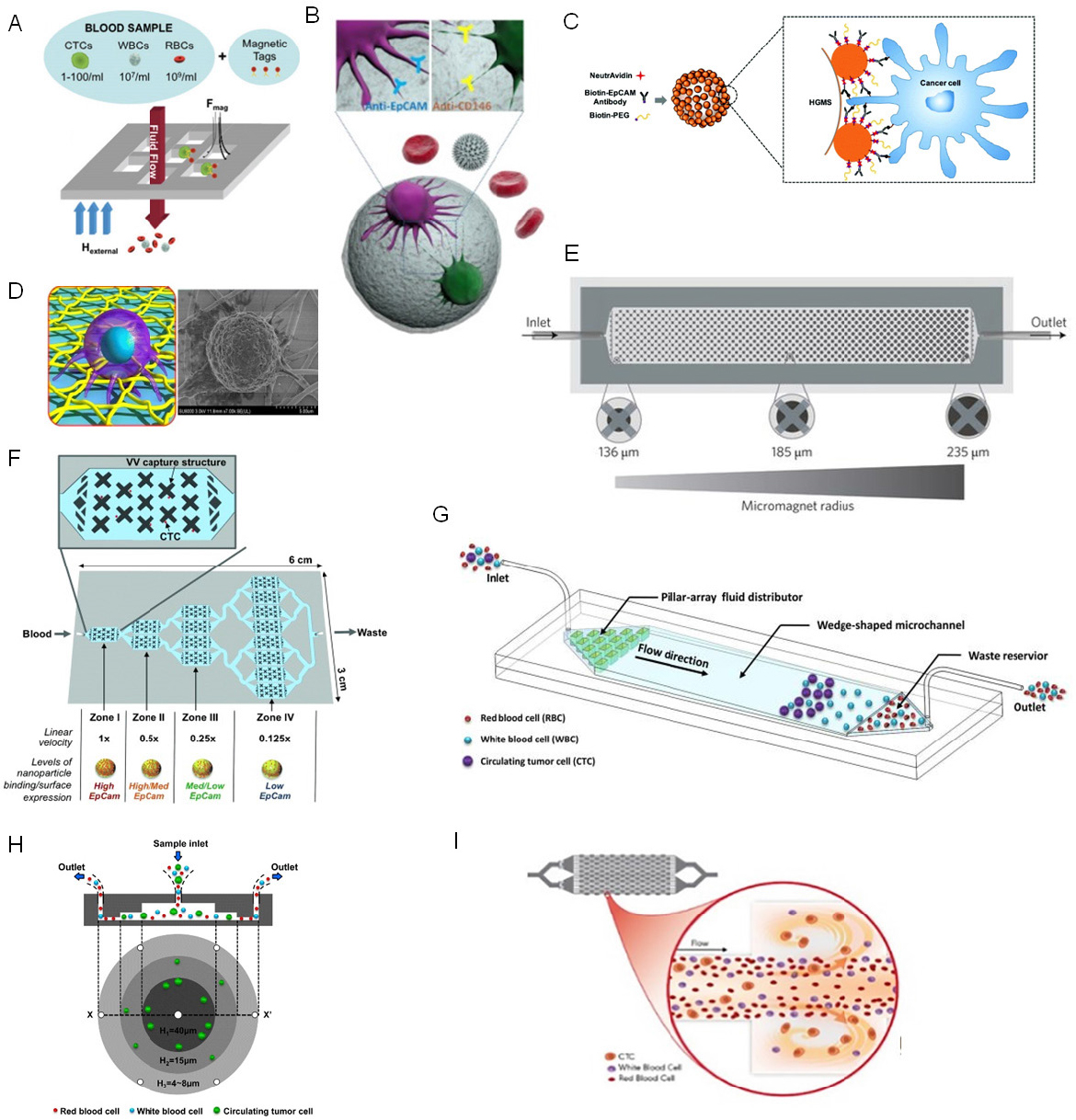 Figure 2. Strategies for CTC enrichment. A: A magnetic sifter device for CTC isolation when a magnetic field is applied. Magnetically labeled CTCs are captured at the edges of the pores, while unlabeled cells pass through the pores under fluid flow; B: dual antibodies (anti-EpCAM and anti-CD146) and biodegradable gelatin nanoparticle-coated microbeads for the capture of mesenchymal CTCs; C: a microfluidic device embedded a wedge-shaped microchamber for cell separation based on multiple biophysical properties; D: a 3D bionic cytosensor with PLGA nanofibers for CTC capture; E: vortex technology exploited for CTC isolating; F: a multizone velocity valley device for isolating heterogeneous CTCs in four different regions of varying linear velocities; G: the hollow glass microspheres with nanotopographical structures (NSHGMS) for excellent CTC isolation; H: a microfluidic device embedded a pyramid-shaped microchamber for size-based CTC separation; I: a MagRC approach for separating and in-line profiling of heterogeneous CTCs. A: Copyright Royal Society of Chemistry, 2013. Reproduced with permission from reference[13]; B: Copyright Ivyspring International Publisher, 2013. Reproduced with permission from reference[27]; C: Copyright Royal Society of Chemistry, 2018. Reproduced with permission from reference[42]; D: Copyright BioMed Central, 2018. Reproduced with permission from reference[43]; E: Copyright Nature, 2017. Reproduced with permission from reference[45]; F: Copyright Wiley, 2015. Reproduced with permission from reference[46]; G: Copyright Institute Of Electrical And Electronics Engineers, 2018. Reproduced with permission from reference[52]; H: Copyright Springer, 2018. Reproduced with permission from reference[53]; I: Copyright Wiley, 2018. Reproduced with permission from reference[54]
However, a number of studies have shown that the levels of CTCs estimated by EpCAM-based methods including CellSearch, is uncorrelated with prognosis in patients with some types of carcinomas. Most of the evidence attributes this inconsistency to the large degree of heterogeneity in CTCs. Specifically, CTCs might undergo full (or partial) EMT during dissemination, resulting in several phenotypes including epithelial, mesenchymal or hybrid (epithelial/mesenchymal) CTCs. These subpopulations of cells may insufficiently bind to antibodies, thereby evading detection[16,17]. Therefore, a lack of sensitive and specific biomarkers still hinders the isolation and detection of CTCs. Recent studies provide some probabilities. Here are some examples of successful markers. Glycan sialyl-Tn (STn) is often associated with cancer metastasis and expressed in metastatic colorectal and bladder tumors. Neves et al.[18] fabricated a STn affinity-based microfluidic device for specifically isolating STn+ CTCs, following an enzyme-based method to recover viable CTCs for downstream analyses. It showed greatly higher isolation efficiency from the blood of patients with advanced bladder and colorectal cancers. Plastin3 (PLS3) is expressed in metastatic cancer cells but absent in normal cells[19]. Similarly, telomerase which is expressed at high levels in almost all the cancer cells, but not in normal cells, plays an important role in cancer immortality by replenishing chromosome ends[20]. Green fluorescent protein (GFP) fused adenoviral was employed as a probe to target telomerase in cancer cells, and this strategy was applied to detect and isolate CTCs in Non-Small Cell Lung Cancer (NSCLC) to evaluate response to radiation therapy and to potentially detect recurrence and progression of disease. Oncofetal chondroitin sulfate (ofCS) is expressed in both epithelial and mesenchymal tumor cells, as well as the cells that have undergone EMT, suggesting that it may be an ideal candidate for isolating and analyzing CTCs[21,22]. Agerbæk et al.[23] employed recombinant VAR2CA (rVAR2) to efficiently target ofCS expressed CTCs from patients with hepatic, prostate, pancreatic or lung cancer, allowing for isolation of a larger and more diverse population of CTCs compared to anti-EpCAM-antibody approaches. More recently, Ding et al.[24] detected Folate receptor (FR) positive CTCs in peripheral blood from 200 patients with lung adenocarcinoma, and further determined that FR+ CTC number could be used for screening solitary pulmonary nodules (SPNs) in patients and diagnosing early-stage lung cancer with sensitivity of 70.2% and specificity of 79.3%. Meanwhile, more specific biomarker for specific subgroup of CTCs is of interest. Cyclooxygenase-2 (COX-2) has been implicated in transforming growth factor-β (TGF-β1) mediated EMT progress[25] and has a higher level of expression in subpopulations of mesenchymal CTCs correlated with distant metastases[26]. These results suggested FR might be a novel biomarker for isolation and therapy targets. A subpopulation of tumor cells can express cluster of differentiation 146 (CD146) during EMT process, during which EpCAM expression is reduced. Therefore, Huang et al.[27][Figure 2B] designed dual antibodies (anti-EpCAM and anti-CD146) and biodegradable gelatin nanoparticle-coated microbeads to improve the capture of mesenchymal CTCs, achieving high efficiency (> 80%) and high cell viability (92.5%).
All aforementioned ex vivo detection systems require substantial quantities of blood. The GILUPI CellCollector (NANOMEDIZIN), approved by Conformite Europeenne in 2012, is another commercial EpCAM positive based selection device and is the first developed in vivo CTC isolation system to overcome the limitations of blood sample volume[28-30].
Except those EpCAM-based positive selection, CD45 negative selection is applied to deplete the CD45+ cells, mostly using RosetteSep system (Stem Cell Technology, Vancouver), and to analyze the EpCAM-negative CTCs in combination with EPISPOT (Epithelial Immunospot assay, France). Ramirez et al.[31] first evaluated the EPISPOT assay on a large cohort of metastatic breast cancer patients with a positive rate of 59% compared with the 48% positive rate using CellSearch, demonstrating its clinical prognostic relevance.
Microfluidic and nanotechnology-based CTC devices
Microfluidic devices enable efficient processing of complex blood samples with minimal damage to target cells. Owing to the synergistic benefits of the microfluidic devices and immunomagnetic separation, microchip-based immunomagnetic technologies are also commonly used for CTC detection. The most representative microfluidic device based on anti-EpCAM for CTCs isolation is a microscope slide sized CTC-Chip with a mass of geometrically distributed microposts coated with anti-EpCAM[32]. A 98% viability of captured CTCs was reported with minimal preprocessing and low flow stress[33]. Ozkumur et al.[34] developed an automated platform, termed "CTC-iChip", combining the strengths of microfluidics and the benefits of magnetic-based cell isolation for single-cell separation. This CTC-iChip was able to detect the EML4-ALK gene fusion in lung cancer, suggesting that it could be a promising tool for clinical diagnosis. Then Stott et al.[35] developed a microvortex-generating herringbone (HB)-Chip for effective capture of CTCs. The micromixer device was fabricated to enhance the cell-surface interaction. Subsequently, improvement was achieved by employing nanostructured substrates and chaotic micromixers, increasing the recovery rate up to 95%[36].
For the sake of increasing the sensitivity of capturing exceedingly rare CTCs, many efforts have been made to fabricate nanostructures into the microfluidics to increase the interaction between ligands and cells; such devices include electropolymerized polymer nanodots[37], electrospun TiO2 nanofiber[38], and silicon nanowires[39-41]. More recently, Dong et al.[42][Figure 2C] utilized a nanotopographical surface (NSHGMS), based on the CTC isolation technology of anti-EpCAM antibody modified Self-floating hollow glass microspheres (HGMS), to achieve excellent capture performance (93.6% ± 4.9% efficiency and 30 cells/mL detection limit in 20 min). A preferable method was based on a combination of advantages of different approaches. Wu et al.[43][Figure 2D] tactfully fabricated a 3D bionic cytosensor with electrospun polymers (PLGA) nanofibers crosswise stacked on Ni micropillars for better CTC filopodia climbing, subsequently coupled with immuno-selection by anti-EpCAM quantum dots, demonstrating a sensitive detection range and limit of 101-105 cells/mL and 8 cells/mL, respectively, as well as a recovery range of 93.5%-105%.
However, fabricating these nanoscale substrates is time-consuming. Sheng et al.[44] developed a microfluidic device combined with DNA aptamer modified gold nanoparticles (AuNPs) to enhance the capture performance without elaborate establishment for nanostructure. When compared with aptamer on the surface alone, the binding efficiency of AuNPs-aptamer showed a 39-fold increase and the capture efficiency rose from 49% to 92%. In order to profile the dynamic phenotypes of rare CTCs, Poudineh et al.[45][Figure 2E] fabricated a magnetic nanoparticles-enabled ranking cytometry (MagRC) approach to separate and in-line profile heterogeneous CTCs based on the longitudinal profile of magnetic field gradients. They demonstrated that this device was capable of profiling CTCs with higher sensitivity at a single-cell resolution in unprocessed blood from cancer patients compared to other previously developed magnetic sorting techniques. Similarly, an immunomagnetic nanoparticle-mediated binning and profiling approach [Figure 2F] was developed to separate CTCs with different phenotypes based on the differential expression of surface markers[46]. The CTC subpopulations could be spatially sorted in different compartments of a fluidic chip, providing a powerful means to sort heterogeneous CTCs and investigate EMT in patient CTCs.