Abstract
It is estimated that approximately 80%-90% of pancreatic ductal adenocarcinoma (PDAC) will present with unresectable disease with about half of patients presenting with distant metastases. The prognosis of these patients is generally poor with an average life expectancy of approximately 6 months and a median 5-year survival of 1%. The current standard of care for metastatic PDAC patients is palliative chemotherapy, as surgery in this setting does not lead to better survival. More recently, some centers have utilized very specific patient selection to perform resection of oligometastatic disease with reported improvement in survival - with many centers using response to systemic therapy as a sign of favorable biology. We performed a literature review investigating the role of surgical resection of oligometastatic disease of the lung and liver in PDAC.
Keywords
Pancreatic cancer, pancreatic ductal adenocarcinoma, liver metastasis, oligometastatic disease, M1, surgery, metastasectomy
Introduction
Pancreatic ductal adenocarcinoma (PDAC) accounts for approximately 3% of all cancers and about 8% of all cancer deaths in the United States[1]. Despite improvements in surgical technique and chemotherapy regimens, the 5-year relative survival for pancreatic cancer has only increased from 3% to 9% over the last 35 years[1,2]. The majority of PDAC is diagnosed when the cancer has spread to distant sites or has become unresectable[3,4]. The term oligometastastases, coined in 1995 by Hellman and Weichselbaum, refers to the existence of metastases that are few in number[5]. In 2019, Damanakis et al.[6] proposed a definition for oligometastatic disease in pancreatic cancer that included anatomic as well as biological criteria to identify a subset of patients with favorable biology and improved prognosis who may be candidates for surgery. Damanakis restricted the cohort to patients with "limited disease," defined as 4 or fewer hepatic or pulmonary metastatic lesions, as well as only individuals with a Carbohydrate antigen 19-9 (CA 19-9) of less than 1,000 U/mol. In addition, only patients who responded to systemic chemotherapy were included. With these restricted criteria, the investigators identified a subset of about 8% of patients from the original cohort with metastatic disease who had improved overall survival with resection.
Traditionally, oligometastatic disease in the context of PDAC has been associated with a poor prognosis with an average life expectancy of approximately 6 months and a median 5-year overall survival of 1%[7]. Surgical resection of oligometastatic disease in pancreatic cancer is generally not associated with prolonged survival. The National Comprehensive Cancer Network treatment guidelines do not, therefore, consider these patients to be surgical candidates[8]. However, the topic has been much debated, and some centers have performed resection of PDAC metastases and have published data advocating for this approach in very select patients [Figure 1][5,8-10].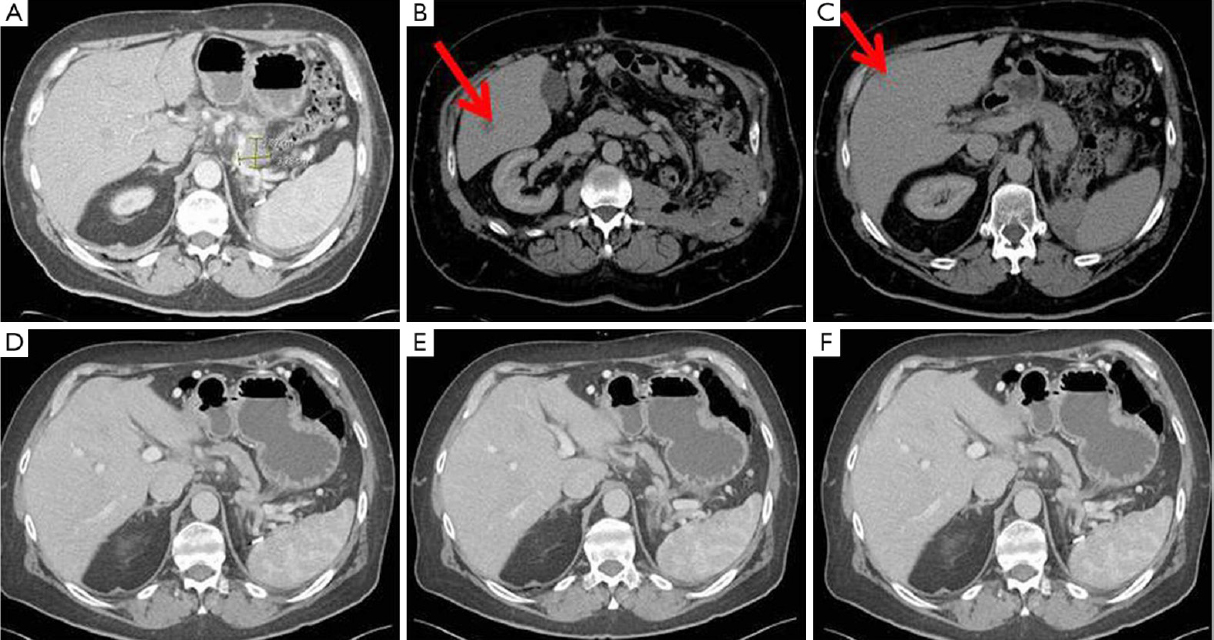 Figure 1. Sixty-six year-old man diagnosed with: biopsy-proven PDAC seen on CT (A); the patient also had synchronous biopsy-proven liver metastases (B and C, red arrows); he underwent neoadjuvant chemotherapy with 5-FU, leucovorin, oxaliplatin, and irinotecan with radiologic response 24 months after diagnosis (D-F). Surgical resection of the pancreas and liver lesions was performed as a one-stage procedure. The patient remained disease-free 30 months post-resection[7]. PDAC: pancreatic ductal adenocarcinoma; CT: computed tomography; 5-FU: 5-fluorouracil
A review on resection of PDAC metastasis published in 2006 reported a median survival ranging from 4 to 6 months with a 5-year survival of zero[4]. Nevertheless, potential utility of resecting oligometastatic disease has been suggested based on outcomes after palliative R2 resection. For example, a study by Bockhorn et al.[11] demonstrated a survival benefit for patients who underwent an R2 resection versus versus bypassed patients (11.5 vs. 7.5 months). However, patients who underwent an resection experienced increased morbidity such as longer hospital stay, and 2 patients out of 40 died perioperatively. These data suggested that debulking of disease in select patients may be associated with a possible prolonged and have served to encourage other investigators to consider surgical removal of oligometastatic disease.
Metastatic PDAC most commonly involves the liver, followed by inter-aortocaval lymph nodes (ILN), lung, and peritoneum[7,12]. However, distant metastasis in patients with PDAC has been documented in almost every organ based on autopsy studies[13-19]. Surgical resection of liver and lung oligometastases with negative margins can be technically feasible depending on the anatomic location; however, decisions regarding oligometastasectomy should be based on predictions about tumor biology and careful patient selection. Surgical resection of liver metastases may be safely accomplished at the time of pancreatic resection in select patients, while pulmonary metastases can often be performed in a minimally invasive fashion after primary pancreatic resection. In general, resection of oligometastatic PDAC lesions should be done in a staged fashion after systemic chemotherapy that has demonstrated stable or responsive disease.
We herein performed a literature review of studies investigating whether there is a role for surgical resection with curative intent of limited PDAC metastases to the lung or liver. The focus of this literature review was on pulmonary and hepatic metastases given that the majority of available literature on oligometastasectomy in PDAC is focused primarily on those two organs.
Hepatic metastasectomy
The liver is the most common location of PDAC metastases due to the proximity of the liver and blood supply to the pancreas[20,21]. Approximately 70% of patients with metastatic PDAC have disease in the liver. Among these patients, 30% have limited disease[22]. While resection of colorectal liver metastasis is safe and provides a survival benefit, the resection of liver metastases in non-colorectal patients, including pancreatic cancer patients, has not been widely accepted[22]. Because national guidelines do not recommend resection of a primary tumor along with synchronous liver metastases, research on the topic is lacking[23]. The general treatment approach to liver metastases in PDAC is systemic chemotherapy and/or radiation therapy[24]. In addition, locoregional ablative techniques such as percutaneous radiofrequency ablation and microwave ablation have been recognized as safe and less invasive alternatives to surgery with comparable recurrence and survival outcomes[25-27].
In a study by Hackert et al.[9], a total of 128 patients underwent surgery for oligometastatic PDAC with spread to either the liver (85 patients) or ILN (43 patients) [Table 1]. Among these patients, 20 had received neoadjuvant treatment. The patients underwent a variety of procedures including pancreaticoduodenectomy, distal pancreatectomy, total pancreatectomy with splenectomy, extended lymphadenectomy, bisegmentectomy, right hepatectomy, segmental liver resection ranging from 1-4 segments, and extended right hepatectomy. Overall, 72.9% of the liver resections were performed at the time of primary pancreatic resection with the rest performed following pancreatic resection at an average of 18.4 months later. The majority of the liver metastases resected were less than 2 cm in diameter, and 96.4% of patients had more than three metastatic lesions in the liver. Twenty patients had undergone neoadjuvant treatment prior to resection; data on adjuvant therapy was only available for 95 patients, 73 of whom completed adjuvant therapy. Surgical morbidity and 30-day mortality rates were 45.0% and 2.9% for the whole cohort, respectively. Median overall survival was 12.3 months with a 5-year overall survival of 8.1% after liver resection and 10.1% after ILN resection. There was no survival difference detected between patients that received neoadjuvant treatment and those that did not. The number of liver metastases, size of liver metastases, and pre-operative CA 19-9 levels were not significantly associated with survival. There was also no significant difference in overall survival between synchronously and metachronously resected patients when survival was analyzed from time of liver resection.
Table 1
Summary of most recent studies of PDAC patients undergoing metastasectomy for liver metastases
Authors
Type of Study
Year
Chemotherapy
n
Morbidity (%)
30-day mortality (%)
Median OS (months)
2-year survival (months)
5-year survival (months)
Hackert et al.[9]
Single Center Retrospective
2017
20 patients received neoadjuvant chemotherapy; 73 patients completed adjuvant chemotherapy
85 (liver)
43 (ILN)
  45.0
  2.9
  12.3
  12.3
   N/A
   8.1%
   10.1%
Michalski et al.[10]
Systematic review of 3 case reports and 18 studies
2008
N/A
103
  24.1-26.0
  0.0-4.3
  5.8-11.4
   N/A
   N/A
Tachezy et al.[28]
Retrospective review of 6 centers
2015
100% received neoadjuvant chemotherapy
69
  68.0
  1.0
  13.6
   N/A
   N/A
Frigerio et al.[29]
Retrospective review of 2 centers
2017
100% received neoadjuvant chemotherapy
24
  62.0
  0.0
  56.0
   N/A
   N/A
Klein et al.[30]
Single Center Retrospective
2012
100% received adjuvant chemotherapy
22
  18.0
  0
  7.6
   5.0
   0.0
A multi-institutional European study performed by Tachezy et al.[28] examined a total of 69 patients with PDAC and synchronous liver metastases who underwent combined pancreas and liver resections compared to patients who were explored but not resected. The overall survival was longer in the resected group (13.6 vs. 7 months, P < 0.001) for pancreatic head tumors. However, there was no survival benefit for distal pancreatic tumors (14 vs. 15 months, P = 0.312).
A 2017 retrospective study from Italy used the strategy of downstaging via neoadjuvant chemotherapy[29]. About 5% of the initial cohort who had synchronous liver oligometastatic disease met the criteria of disappearance of liver metastasis and decreased CA 19-9. R0 resection was achieved in 88% of patients with a 17% complete pathologic response. Overall survival was 56 months and disease-free survival 27 months. The authors concluded that carefully selected patients fully responsive to neoadjuvant chemotherapy may be cautiously selected for surgery.
Alternatively, some studies have not shown a survival benefit. A single-center study by Klein et al.[30] Germany studied the outcomes of 22 patients with PDAC and synchronous hepatic metastases who underwent combined pancreatic resection and liver-directed therapy compared to matched non-metastatic PDAC patients who underwent surgical resection. A third of the patients with liver metastasis underwent segmentectomy and the remainder enucleation. The matched groups had similar complication rates; however, the two-year survival rate for the metastatic group was a dismal 5% (one patient), and no patients survived 5 years.
The only systematic review to date on resection of isolated hepatic metastases in PDAC was published in 2008 and therefore included older studies than this current review. The study was comprised of 3 case reports and 18 retrospective single center studies for a pooled number of 103 cases. The great majority of the studies included less than 10 patients. The overall morbidity and mortality ranged between 24.1%-26.0% and 0-4.3%, respectively. Median survival ranged between 5.8 and 11.4 months[10].
Pulmonary metastasectomy
The lung is another frequent area of oligometastases in PDAC with potential for surgical resection to achieve negative margins [Figure 2]. While there is a clear survival benefit to pulmonary metastasectomy in colorectal cancer patients[31-35], the data is not certain for PDAC patients [Table 2].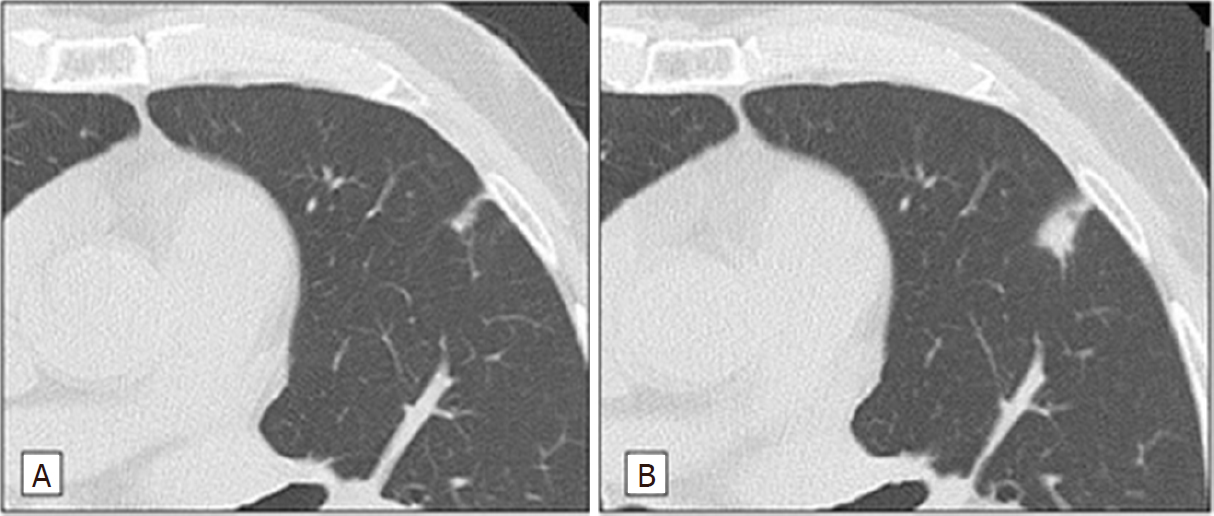 Figure 2. CT chest showing isolated pulmonary metastases initially diagnosed (A) 98 months after curative resection of PDAC and then (B) 108 months after curative resection of PDAC, showing that the nodule increased in size. The patient underwent wedge resection and received gemcitabine-based adjuvant chemotherapy for 6 months. The patient remained asymptomatic and tumor-free for a total of 4 years since last pulmonary metastasectomy[40]. CT: computed tomography; PDAC: pancreatic ductal adenocarcinoma
Table 2
Summary of most recent studies of PDAC patients undergoing metastasectomy for lung metastases
Authors
Type of Study
Year
n
Morbidity (%)
30-day mortality (%)
Median OS
(months)
2-year survival
(months)
5-year survival
(months)
Arnaotakis et al.[34]
Single Center Retrospective
2011
9
         0%
             0%
      51.0
        40%
          N/A
Robinson et al.[36]
Single Center Retrospective
2016
29
         0%
             0%
      29.0
        N/A
          N/A
Downs-Canner et al.[37]
Single Center Retrospective
2015
78
         N/A
             N/A
      35.6
        N/A
          18.3
Yamashita et al.[38]
Single Center Retrospective
2015
2
         N/A
             N/A
      70.0
        N/A
          N/A
A study by Arnaoutakis et al.[34] reported improved median survival for patients with isolated pulmonary metastases from PDAC undergoing pulmonary resections with low morbidity and mortality. This study included 9 patients who underwent pulmonary metastasectomy after initial pancreatectomy for stage I or II PDAC (median time from pancreatectomy to pulmonary metastasectomy of 34 months) compared to a matched reference group who did not undergo lung resection. The majority of the patients received adjuvant chemotherapy and radiation. Median overall survival for the pulmonary metastasectomy group was 51 months compared to 23 months for the reference group, P = 0.04. There were no complications or in-hospital mortality after pulmonary metastasectomy.
A more recent study on isolated pulmonary metastasectomy for PDAC showed similar results. The cohort included 29 patients who had previously undergone resection of pancreatic cancer who subsequently underwent lung resection, 55% for isolated pancreatic cancer lung metastases and 45% for primary lung cancer. Median disease-free interval was 24 months for the pulmonary metastasectomy group vs. 8 months for the non-metastasectomy patients. Median overall survival after lung resection was 28 months for the pulmonary metastasectomy group, corresponding to an estimated 5-year overall survival of 37%. There was no post-operative morbidity or mortality[36].
Downs-Canner et al.[37] evaluated all patients with pulmonary metastases from PDAC at a high-volume institution in the United States to determine the natural history of this disease process. Median survival for patients with lung-first metastasis was significantly longer than for patients with synchronous abdominal-lung metastases or abdominal-first disease. Among patients who underwent pancreatic resection and then developed lung-only disease, survival was significantly longer (67.5 months) for patients who received surgical resection or stereotactic radiosurgery (n = 8) compared to chemotherapy (33.8 months) or observation (29.9 months).
Similarly, another study by Yamashita et al.[38] identified 142 resected PDAC patients, 14 of whom developed isolated pulmonary recurrence. Patients who had isolated pulmonary recurrence had significantly longer survival than those with metastatic disease to other locations (40.3 vs. 20.9 months, P = 0.0156). The two patients who underwent pulmonary metastasectomy survived for 70 months after resection.
Overall, a small amount of retrospective data shows improved survival for staged resection of isolated pulmonary metastases in PDAC, especially if combined with adjuvant chemotherapy and/or radiation. The data also suggests that lung-only metastatic disease may be more indolent than metastatic disease in other locations making it a reasonable target for metastasectomy in select patients.
Conclusion
As recurrence and liver metastasis associated with resected pancreatic cancer is quite high and most systemic regimens only improve survival by a few months, resection of oligometastatic disease may be reasonable in very carefully selected patients. Furthermore, as systemic chemotherapy becomes more effective, the ability to treat patients with oligometastatic disease, as well as select patients who may benefit from resection may improve. As molecular data emerge, targeted approaches informed by the underlying genetic profile of a specific pancreatic tumor may also help to tailor more personalized approaches to therapy.
Although the current standard of care for metastatic pancreatic adenocarcinoma is palliative chemotherapy with no role for surgical resection, single institution experiences suggest that there may be a survival benefit for resection of oligometastatic disease in select patients. Some centers have created algorithms to select patients with more favorable tumor biology who might benefit from resection, applying such parameters as response to chemotherapy and CA 19-9 values. It appears that morbidity and mortality is slightly higher for hepatic compared with pulmonary metastatic resection. If surgery is being considered for oligometastatic disease, surgical resection should be combined with systemic and patients need to very carefully selected.
There are no randomized controlled trials exist, and current data are based on small, retrospective observational studies with varying definitions of oligometastasis and different inclusion criteria, extent of metastasectomy, timing and regimens of systemic therapy, and reference groups for comparison. As such, the level of evidence to suggest a benefit for resection of oligometastatic disease remains low.
Of note, there is an ongoing multicenter, randomized, controlled phase III trial called CSPAC-1 (NCT03398291) in China evaluating the possible benefit of simultaneous resection of pancreatic cancer and liver oligometastases after induction chemotherapy[39]. Inclusion criteria include age 18-75, Eastern Cooperative Oncology Group performance status 0-1, and histologically-confirmed stage IV pancreatic cancer with no more than 3 liver metastases. Patients who meet inclusion criteria for intervention, including resectable primary tumor and liver lesions, no new metastatic disease, and a drop in abnormal tumor markers by more than 50% after chemotherapy, are eligible for synchronous resection of the primary pancreatic cancer and the liver metastasis. Patients will randomized to chemotherapy and resection versus standard chemotherapy. The primary outcome measure is overall survival from start of induction chemotherapy, and secondary outcomes include overall survival after completing induction chemotherapy, quality of life, and post-operative morbidity and mortality. The expected completion date of the study is 2025. Until randomized data are available, resection of oligometastatic disease of the liver and lung in PDAC should only be done in a multi-disciplinary setting for highly selected patients and, preferably, on a protocol basis.
Declarations
Authors' contributions
Made substantial contributions to conception and design of the literature review: Puckett Y, Pawlik TM
Performed literature review and manuscript preparation: Puckett Y, Eskander MF, Aquina CT
Responsible for conception and design of literature review: Pawlik TM
Availability of data and materials
Not applicable.
Financial support and sponsorship
None.
Conflicts of interest
All authors declared that there are no conflicts of interest.
Ethical approval and consent to participate
Not applicable.
Consent for publication
Not applicable.
Copyright
© The Author(s) 2020.
Cite This Article
OAE Style
Puckett Y, Eskander MF, Aquina CT, Pawlik TM. Is there a role for resection of oligometastatic disease in pancreatic ductal adenocarcinoma?. J Cancer Metastasis Treat 2020;6:44. http://dx.doi.org/10.20517/2394-4722.2020.98
AMA Style
Puckett Y, Eskander MF, Aquina CT, Pawlik TM. Is there a role for resection of oligometastatic disease in pancreatic ductal adenocarcinoma?. Journal of Cancer Metastasis and Treatment. 2020; 6:44. http://dx.doi.org/10.20517/2394-4722.2020.98
Chicago/Turabian Style
Puckett, Yana, Mariam F. Eskander, Christopher T. Aquina, Timothy M. Pawlik. 2020. "Is there a role for resection of oligometastatic disease in pancreatic ductal adenocarcinoma?" Journal of Cancer Metastasis and Treatment. 6: 44. http://dx.doi.org/10.20517/2394-4722.2020.98
ACS Style
Puckett, Y.; Eskander MF.; Aquina CT.; Pawlik TM. Is there a role for resection of oligometastatic disease in pancreatic ductal adenocarcinoma?. J. Cancer Metastasis. Treat. 2020, 6, 44. http://dx.doi.org/10.20517/2394-4722.2020.98