Abstract
Oral squamous cell carcinoma (OSCC) is one of the common lethal malignancies which is increasing rapidly in the world. Increasing risks from alcohol and tobacco habits, lack of early detection markers, lack of effective chemotherapeutic agents, recurrence and distant metastasis make the disease more complicated to manage. Laboratory-based studies and epidemiological studies indicate important roles of nutraceuticals to manage different cancers. The plant bitter melon (Momordica charantia) is a good source of nutrients and bio-active phytochemicals such as triterpenoids, triterpene glycosides, phenolic acids, flavonoids, lectins, sterols and proteins. The plant is widely grown in Asia, Africa, and South America. Bitter melon has traditionally been used as a folk medicine and Ayurvedic medicine in Asian culture to treat diseases such as diabetes, since ancient times. The crude extract and some of the isolated pure compounds of bitter melon show potential anticancer effects against different cancers. In this review, we shed light on its effect on OSCC. Bitter melon extract has been found to inhibit cell proliferation and metabolism, induce cell death and enhance the immune defense system in the prevention of OSCC in vitro and in vivo. Thus, bitter melon may be used as an attractive chemopreventive agent in progression towards OSCC clinical study.
Keywords
Bitter melon (Momordica charantia), oral squamous cell carcinoma, signal transduction, cancer metabolism, immune system, cancer prevention
Introduction
Cancer is a genetic disease that involves uncontrolled cell proliferation due to the dynamic changes in the genome, and it is the second leading cause of death worldwide[1-3]. At the molecular level, cancer is highly heterogeneous with more than 200 distinct disease entities in humans due to the differences in initiating cells, pattern of acquired somatic mutations, alteration in molecular signaling events and influence of local tissue microenvironments[4]. Oral squamous cell carcinoma (OSCC) is the sixth most common cancer, which arises from the epithelium of the anterior tongue, cheek, floor of mouth, retro molar area, gingiva and the buccal mucosa. OSCC accounts for more than 90% of head and neck cancers[5,6]. The incidence of oral cancer continues to increase worldwide. A global estimate of lip and oral cavity cancer cases in 2018 was 354,864, which was 2% of all new cancer cases with 177,000 deaths every year[7,8]. In the USA, the estimated incidence rate of cancer of the oral cavity and pharynx in 2020 was 53,260, leading to 10,750 deaths[9]. Tobacco and alcohol use with synergistic effects, chewing betel quid and gutka (chewing tobacco) and human papillomavirus (HPV) infection are major risk factors for OSCC[10]. Additionally, genetic factors and age also influence OSCC development[11].
OSCC develops from single neoplastic cells or stem cells towards malignancy through sequential changes of histopathology ranging from hyperplasia, dysplasia and carcinoma in situ to invasive carcinoma. The multistep carcinogenesis process is regulated by a series of genetic and epigenetic events, resulting in activation of oncogenes and inactivation of tumor suppressor genes, modulation of the tumor microenvironment and the immune system, epithelial-to-mesenchymal transition, and increased metabolism and energy production[11-14]. Despite improvement in surgical techniques, chemotherapy and radiation therapy, the overall survival rates are 40%-50%, and they have not been improved in the last few decades[8]. OSCC is a very aggressive tumor, and many patients are diagnosed when the disease is at locoregionally advanced stages. Also, lack of early detection markers, frequent association with metastasis and inadequacy of effective therapeutic regimens make the disease more complicated to manage[15-17]. However, targeted therapy and immune therapy show promising results to some extent. The FDA (Food & Drug Administration of the USA) approved EGFR targeting therapies that showed clinical activity in OSCC but achieved limited success[18,19]. The use of PD-1 and PD-L1 immune checkpoint inhibitors also showed promising results in a phase III clinical trial[8]. Other challenges in OSCC treatment are side effects, overtreatment, worsening prognosis and increasing treatment costs[8]. Thus, there is a critical clinical need to understand the disease process and to identify better therapeutic strategies for successfully managing the disease.
Medicinal values of different natural phytochemicals have been identified since ancient times, and around 80% of the world's population still rely on plant products for primary health benefits[20]. Many registered drugs such as anthracyclines (doxorubicin, epirubicin), taxanes (paclitaxel, docetaxel), vinca alkaloids (vinblastine, vinorelbine), podophyllotoxin and its derivations have already been derived from different plant sources[21]. In case of cancer prevention, many phytochemicals show promising results in epidemiological studies and pre-clinical experiments, and some of those are already in clinical trials[22].
Bitter melon (Momordica charantia) or bitter gourd, balsam pear, or karela, has been known for ages for the treatment of diabetes[23]. The plant belongs to the family Cucurbitaceae and grows in tropical and sub-tropical regions of Asia, Africa and South America. The crude extract or isolated compounds also show anti-lipidemic, antibacterial, antifungal and anti-HIV activities[22,24,25]. Potential anticancer activity of bitter melon crude extract (BME) and isolated compounds are reported in various in vitro and in vivo models[26]. These observations are quite promising in the prevention of multiple cancer types such as cancers of the skin, brain, oral tissues (head and neck), breast, lung, liver, stomach, colon, pancreas, kidney, uterine cervix, ovary, prostate and blood[26]. In the present review, we focus only on oral cancer and summarize the effect of bitter melon with molecular details. The main objective of this review is to make people more familiar with bitter melon for its health benefits, especially to prevent oral cancer for successful management of this deadly disease.
Nutritional value of bitter melon
Bitter melon is a herbaceous plant and is characterized by thin stems, tendrils, bright yellow flowers and light green to yellow fruits [Figure 1A]. It is bitter to the taste but sweet to health as its nutritional value is highest among cucurbits, and thus, the plant has been used in folk medicine since the times of ancient civilization. It is a good source of carbohydrate, protein, fiber, vitamins (vit-C, A, B-complex), minerals (potassium, calcium, zinc, magnesium, phosphorous and iron) and free amino acids (aspartic acid, serine, glutamic acid, threonine, alanine, γ-amino butyric acid)[24,25,27,28][Figure 1B]. Moreover, it is a plentiful source of phytochemicals, most of which have potential biological activities. The major chemical constituents are classified as cucurbitane-type triterpenoids, cucurbitane-type triterpene glycosides, phenolic acids, flavonoids, essential oils, fatty acids, amino acids, sterols, saponins and proteins; among those, the cucurbitane-type triterpenoids are the most prevalent[24,28]. The cucurbitane-type triterpenoids (momordicines I and II) and triterpene glycosides (momordicosides K and L) contribute to the bitterness of the plant[25]. Charantin, momordicine I, II and III, karavilagenin A, B, C, D and E, and kuguacins A-S are major cucurbitane-type triterpenoid components [Figure 1C]. The cucurbitane-type triterpene glycosides include momordicosides (A-E, F1, F2, G, I, K, L, M, N, O, Q, R, S and T), charantosides I-VIII, karavilosides (I-XI), goyaglycoside- (a-h), kuguaglycoside, etc, [Figure 1C]. Gallic acid, tannic acid, (+)-catechin, caffeic acid, p-coumaric, gentisic acid, chlorogenic acid, and epicatechin are some of the phenolic acids and flavonoids. Palmitic acid and oleic acid are major components of fatty acids with trace constituents such as stearic acid, lauric acid, linoleic acid, arachidic acid, myristic acid and capric acids. Momordica antiviral protein 30 kD (MAP30), α-and β-momocharin, MC2, and marmorins may have potential biological activities.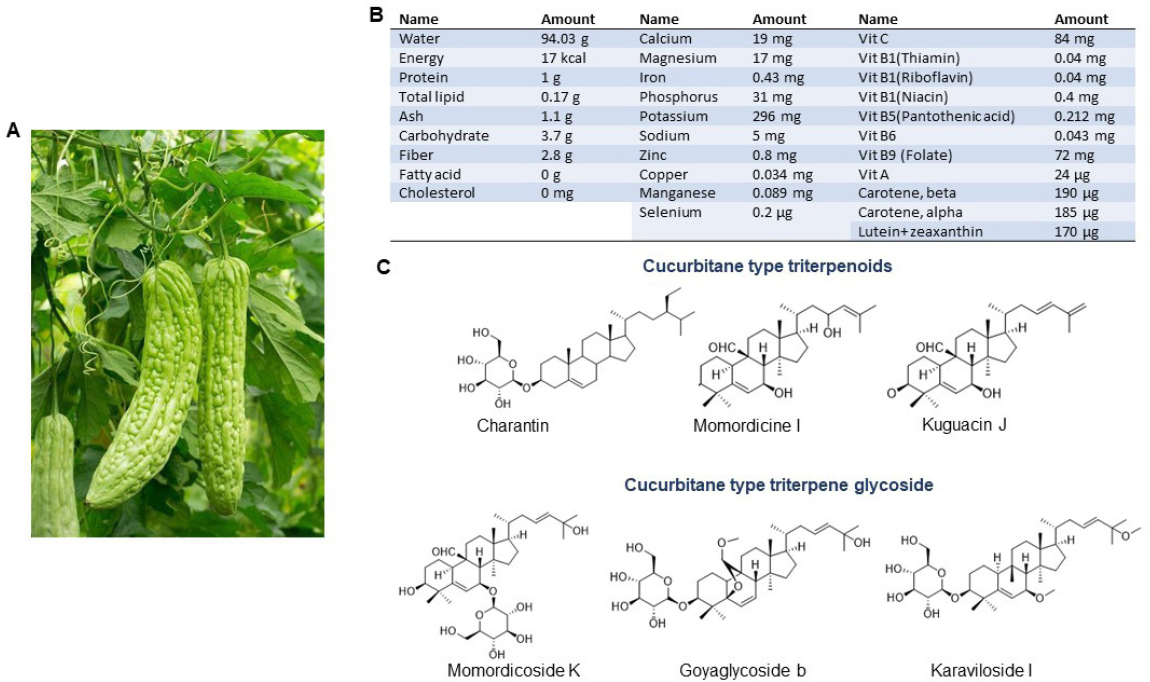 Figure 1. Bitter melon and its constituents. A: Bitter melon vine and its fruit; B: Nutritive substances in bitter melon per 100 g. (Source: U.S. DEPARTMENT OF AGRICULTURE; FDC ID: 168393; NDB Number:11024; FDC: Published:4/1/2019); C: Chemical structure of some major cucurbitane-type triterpenoid and cucurbitane-type triterpene glycoside components.
Bitter melon and oral cancer
The anticancer properties of bitter melon on oral cancer were studied in in vitro and in vivo models. The aqueous extract of the fruit inhibited head and neck cancer cells Cal27, JHU-29 (JHU029) and JHU-22 (JHU022) in a time-dependent manner[29]. The 50% inhibition of cell growth was achieved with 1%-2% doses of a 0.1 g/mL stock for 24 h in all the cells tested. In pre-clinical oral cancer models, the efficacy of the extract was further evaluated [Figure 2]. Oral gavage of BME (100 µL from a 0.1 g/mL stock per mouse) for 4 weeks caused significant regression of Cal27 xenograft tumor growth in nude mice as compared to control mice [Figure 2A][29]. Furthermore, the same dose was found to be similarly effective in the presence of an intact immune system in a syngeneic model [Figure 2B][30]. Mouse squamous cell carcinoma SCCVII cells were implanted into the flanks of C3H mice, and after palpable tumor formation, BME was given by oral gavage. Likewise, BME treatment significantly reduced tumor size and volume in the experimental group as compared to the control mice [Figure 2B][30]. SCCVII cells are a currently available syngeneic model of OSCC, although these cells are derived from a spontaneously formed squamous cell carcinoma in C3H mice[31-34]. In addition, a whole exome sequencing study revealed remarkable similarities between SCCVII and oral cancer patient tumor[34]. One of the main causative agents of OSCC is the tobacco habit and tobacco-associated carcinogen 4-nitroquinoline 1-oxide (4-NQO) induces invasive tongue squamous cell carcinoma by the 22nd week in immune-competent mice[35]. Regular treatment of BME through drinking water significantly reduced tongue cancer incidence with no significant change in normal histology [Figure 2C][35]. In all the animal models, no apparent toxic effects were seen following BME treatment. Several bitter melon compounds have been identified; however, the role of these compounds has not been well evaluated against oral cancer. Some of the compounds showed a cytotoxic effect on laryngeal carcinoma cells (HEp-2) and nasopharyngeal carcinoma cells (CNE-1 and HONE1) of head and neck cancer[27,36,37].
Figure 2. Effect of bitter melon on pre-clinical oral cancer models. A: Xenograft model where human OSCC Cal27 cells were implanted subcutaneously into the flank of athymic nude mice. The mice were divided into a control group and a BME-fed group after palpable tumor formation. Representative images show regression of tumor growth in the BME-fed group[29]; B: Syngeneic model where SCCVII cells were injected subcutaneously into the flank of immune-competent mice. Representative images show inhibition of tumor growth following BME treatment through oral gavage[30]; C: Immune-competent mice were given a tobacco-associated carcinogen, either 4-NQO (50 μg/mL) alone or both 4-NQO and BME through drinking water. After the 22nd week, invasive tongue squamous cell carcinomas were noted in the cancer group, whereas there was no change in the BME-fed group[35].
Oral cancer prevention by bitter melon: underlying mechanisms
Molecular mechanisms of bitter melon in prevention of OSCC are summarized below.
Conclusion
Bitter melon is a medicinal plant and a good foodstuff. Several pre-clinical studies show its potential anticancer role. Nowadays, many studies suggest the use of alternative therapies and plant-based medicines either alone or in combination with conventional therapy for better management of the disease. Other advantages of the natural phytochemicals are absence of toxic side effects and cost effectiveness. Many phytochemicals are already in clinical trials. In this review, we mainly focused on the effect of bitter melon in preventing oral cancer. Bitter melon is a good source of nutrients and active components which include triterpenoids, triterpene glycosides, phenolic acids, flavonoids, lectins, sterols, proteins and saponins. The crude extract is highly effective in killing oral cancer cells and preventing tumor growth in mice. The extract inhibits the cell cycle and cell signaling, induces apoptotic cell death, inhibits glucose and lipid metabolism in cancer cells and most importantly modulates the immune system to prevent oral cancer. In animal models, no toxic effects of the extract are reported so far. Thus, it seems that regular intake of bitter melon or bitter melon juice will be good to boost the body's immune defence system as well as to prevent oral cancer risk. On the other hand, the extract may be used as a therapeutic agent along with current standard therapy for better management of OSCC. Further mechanistic evaluation of active components in pre-clinical systems is required for designing prospective studies for intervention trials.
Declarations
Acknowledgement
We would like to thank Dr. Joel Eissenberg for editing this manuscript.
Authors' contributions
Made substantial contributions to conception and design of the paper and interpretation: Sur S, Ray RB
Availability of data and materials
Not applicable.
Financial support and sponsorship
This work was supported by research grant R01 DE024942 from the National Institutes of Health.
Conflicts of interest
Both authors declared that there are no conflicts of interest.
Ethical approval and consent to participate
Not applicable.
Consent for publication
Not applicable.
Copyright
© The Author(s) 2021.
Cite This Article
Sur S, Ray RB. Diverse roles of bitter melon (Momordica charantia) in prevention of oral cancer. J Cancer Metastasis Treat 2021;7:12. http://dx.doi.org/10.20517/2394-4722.2020.126