INTRODUCTION
A prominent hallmark of cancer is gene dysregulation, leading to initiation of tumor development, distant metastasis, and therapeutic resistance[1]. Unlike normal cells, cancer cells require high levels of active transcription to develop various survival programs and maintain uncontrolled growth[2]. The need for high transcription to propel cancer proliferation is supported by observations of over-expressed components in transcriptional machinery in diverse cancers[1,3-5]. In particular, the development of aggressive and therapeutically recalcitrant tumors such as anaplastic thyroid cancer (ATC) is known to rely on characteristic patterns of gene expression (known as transcriptional addiction), despite a high level of genetic heterogeneity[6,7]. This transcriptional dependency requires perpetually active transcription, relying on input from transcriptional key players including chromatin regulators. Such a higher activity exhibited by transcription regulators has presented an opportunity for therapeutic intervention[6-10].
ATC is a rare malignancy, but it is one of the most aggressive human solid cancers[11], accounting for 1%-2% of all thyroid cancers, which are the most common endocrine malignancy[12,13]. ATC is extremely fast-growing and invasive, and thus most cases present as stage IV disease with distant metastasis, making most patients ineligible for surgery[14,15]. ATC is highly resistant to conventional therapy, and the median survival of ATC patients is less than 6 months after diagnosis[11,16]. Currently there are no established therapeutic options to improve overall survival of these patients[17,18]. American Thyroid Association guidelines and the National Comprehensive Cancer Network Clinical Practice Guidelines for ATC recommend combination therapy including surgery, chemotherapy, and/or radiotherapy to maximize clinical benefits[16,19]. Several new tyrosine kinase inhibitors (TKIs) are currently under evaluation in phase II clinical trials for ATC. So far only a combination therapy of dabrafenib with trametinib has been approved by the United States Food and Drug Administration for BRAF-mutated ATC, which was based on the limited results from a phase II clinical trial without definite evidence of benefits on survival[20]. Therefore, development of new effective therapeutic modalities is urgently needed.
One explanation to account for the difficulties in developing effective therapeutics for ATC is the lack of well-defined driver mutations as well as clearly elucidated molecular mechanisms underlying the carcinogenesis. ATC exhibits more genetic alterations and more extensive heterogeneity than other types of thyroid cancers[21-23]. The high degree of intra- or inter-tumor heterogeneity[24,25] presents a huge challenge in identifying effective therapeutic targets for ATC. Nevertheless, despite this genetic complexity, in a subset of ATC, a characteristic transcriptional program frequently associated with super-enhancers emerges, resulting in constitutive activation of some oncogenes[6,8-10,26]. Moreover, the expression of the oncogenes that are driven by the super-enhancers has been shown to be particularly vulnerable to the effect of transcriptional inhibitors as found in other cancers[27-31]. Thus, the molecular modulators of these transcriptional programs, especially proteins that are important for the transcriptional control, have emerged as attractive targets for aggressive cancers such as ATC. In this review, we will briefly review the transcriptional machinery process and what is known about dysregulation of transcription in cancer development. We will then discuss how the inhibitors which could disrupt transcription could impede cancer cell survival and proliferation. We will also examine the challenges to be overcome before these inhibitors could be used for therapeutics for patients.
General transcriptional machinery and its main regulators
Transcription starts from the assembly of the pre-initiation complex (PIC), a complex of about 100 proteins that binds to the transcription start sites of genes and promotes DNA entry to the active site of RNA Polymerase II (RNA Pol II) for transcription initiation[32] [Figure 1]. The PIC formation requires the recruitment of several general transcription factors (GTFs), which include TFIIA, TFIIB, TFIID, TFIIE, TFIIF, and TFIIH[33]. Promoters typically have a TATA box [TATA(A/T)A(A/T)(A/G)] located 25 base pairs upstream of the transcription start site[34].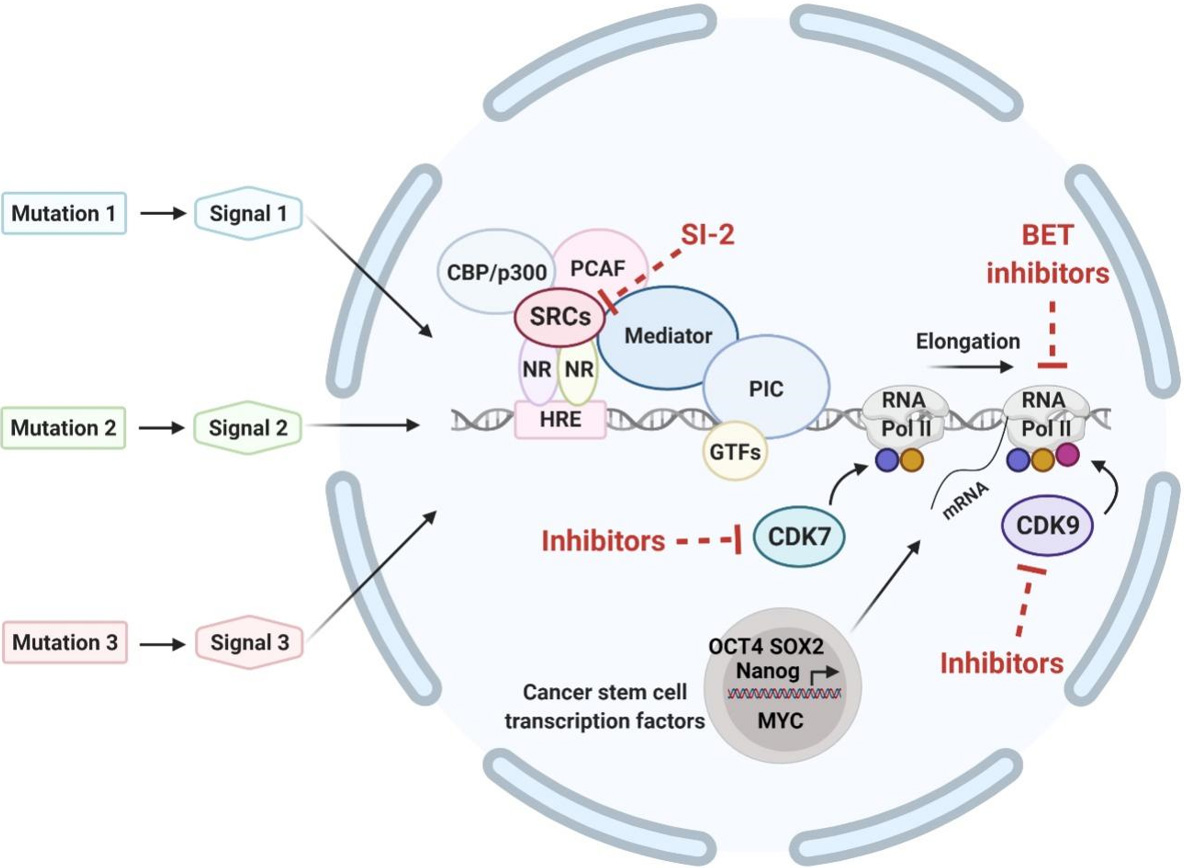 Figure 1. Converging of multiple oncogenic signals initiated from various upstream driver mutations in eliciting transcriptional responses. General transcription factors, mediators and RNA polymerase II assemble to form preinitiation complex to initiate transcription. The process of RNA elongation and termination is regulated by various cyclin-dependent kinases. Blue, yellow, and red circles indicate phosphorylation of the C-terminal domain of RNA Pol II at Ser 5, Ser 7, and Ser 2, respectively, by CDK7 or CDK9. Bromodomain and extra-terminal domain proteins (BET proteins; e.g., BRD4) interact with acetyl-lysines on the chromatin to activate transcription. Nuclear receptors bind to the hormone response element of target genes. Hormone/ligand-bound HRs recruit steroid hormone receptor coactivators (e.g., SRC-3) and other activators such as CBP/p300 and PCAF and together with mediator to form large complexes to further activate transcription. Mutational oncogenic upstream signals relay to converge on the transcription process to alter gene transcription output of proliferation- and differentiation-regulators to promote cancer progression. The expression of critical cancer stem cell transcription factors such as Oct4, Sox2, Nanog and MYC is known to be driven by super-enhancers on the chromatin. Sites in the transcription machinery that could be targeted by inhibitors are shown. NR: nuclear receptor; SRC: steroid hormone nuclear receptor coactivator; HRE: hormone response element; PCAF: CBP/p300-associated factor; PIC: pre-initiation complex; GTFs: general transcription factors; Pol II: polymerase II; CDK7: cyclin-dependent kinase 7; CDK9: cyclin-dependent kinase 9.
TATA binding protein (TBP), which is a subunit of TFIID, binds to the TATA box in the promoter of DNA. Subsequent recruitment of TFIIA and TFIIB stabilizes this TBP-promoter complex. TFIIB recruits RNA polymerase II and TFIIF to the promoter complex. This binding further stabilizes the RNA Pol II complex and other initiation factors on the promoter to confirm that the transcription initiation by the RNA Pol II occurs at the appropriate location[32,35].
The mediator complex, which is a 23-subunit assembly, cooperatively binds with RNA Pol II and a subset of transcription factors (TFs) during the process of the PIC formation despite not binding directly to DNA sequence-specifically[36]. The mediator complex is recruited to promoter-enhancer regions by TFs and functions to signal the messages from the TFs to RNA Pol II, thereby enabling TF-dependent regulation of gene expression. Such communication is indispensable for transforming biological inputs from TFs to physiological responses through changes in gene expression[37].
The final GTF to be recruited to the PIC is TFIIH, consisting of multiple subunits, including MAT1, cyclin-dependent kinase 7 (CDK7), its paired cyclin H, and ATP-dependent helicases (XPB and XPD)[38]. Following recruitment, XPB enables promoter opening for transcription to occur[39], whereas CDK7-mediated phosphorylation of C-terminal domain (CTD) of RPB1, which is the largest subunit of RNA Pol II, at serine 5 induces dissociation of the mediator from the PIC, thereby leading to binding of mRNA capping enzymes that catalyze addition of the methyl-guanosine cap structure to the 5` end of nascent mRNA transcript[40]. CDK7 also phosphorylates TFIIE that facilitates activities of TFIIH as an ATPase and a kinase, and its phosphorylation drives the transition from transcription initiation to elongation[41].
Elongation of RNA Pol II pauses 30-50 nucleotides downstream of the transcription start site. This transcriptional pause enables rapid and synchronous transcriptional activation upon release of RNA Pol II from the paused state and also functions as a check point for mRNA quality control[42]. The positive transcription elongation factor b (P-TEFb)/CDK9 complex is then recruited to the paused RNA Pol II and cooperates with bromodomain-containing protein 4 (BRD4) and the super elongation complex to release RNA Pol II for active transcription. While CDK7 is important for driving the initial stages of RNA Pol II elongation, CDK9 produces a fully matured elongation complex that can engage in mRNA slicing, termination, and co-transcriptionally modifying the chromatin structure[43]. In addition, the P-TEFb promotes the CTD phosphorylation at serine 2, a conserved marker of elongating RNA Pol II in promoting recruitment of the 3`-end processing and splicing factors for mRNA maturation[44]. CDK12 and CDK13 also directly contribute to the CTD phosphorylation at serine 2, transcription elongation[45], splicing of pre-mRNA, and transcriptional termination[46].
Mechanisms of transcriptional dysregulation in cancer
In normal cells, cell identity is largely controlled by the action of TFs that interact with specific regions in the genome to regulate gene expression. The TFs deregulated in cancer can be subdivided into three major groups: (1) master/lineage TFs involved in organization of cell identity; (2) proliferation control TFs that can amplify transcriptional output to meet cellular demands; and (3) signaling TFs that regulate a series of machineries driven by extracellular signals. Examples of master/lineage TFs are the pluripotent OCT4, SOX2, and Nanog regulators. They function to change core regulatory circuitries and induce transcriptional activation of additional genes that are normally expressed in more embryonic states. Prime examples of proliferation control TFs are MYC and TP53, the most frequently mutated genes in human cancer. Notably, MYC can have extensive effects by amplifying the entire gene expression program[4,47,48]. Examples of signaling TFs are nuclear receptors including thyroid receptor (TR)[49,50] and estrogen receptor (ER), STAT3, β-catenin, and NOTCH. Dysregulated signaling TFs can significantly alter the transcriptional program by binding to enhancers occupied by master TFs[51,52] or aberrantly promoting super-enhancer formation[48].
Besides these TFs, several cofactors play key roles in the transcriptional process. There are two classes of cofactors: the mediator complex and chromatin regulators. Mediators act as a messenger to relay signals from the TFs to chromatin regulators such as p300/CBP, MLL1-4, BRD4, JARID1A, and SWI/SNF chromatin remodeling complex. Genetic alterations of the mediator complex are frequently observed in many cancers[53-55]. Interestingly, few cancer-associated genetic alterations in the core RNA Pol II complex itself have been identified, suggesting that coordinated alterations of transcriptional signals upstream of RNA Pol II are more important for the neoplastic state[56]. Chromatin regulators are important for efficient delivery of transcriptional signals from enhancers to promoters. They function globally, and thus their dysregulation can profoundly affect the gene expression program of cancer cells[56].
Recent studies have demonstrated that specific chromosomal structures play critical roles for gene regulation. The term insulated neighborhoods was coined to indicate that genes and their regulatory elements are typically regulated together within specific DNA loop structures. These chromosomal loop structures are bound by the CTCF protein and are co-bound with the cohesin complex[57]. These chromosomal structures produce specific enhancer-gene interactions that are necessary for gene activation and repression[58-60]. Therefore, mutations of proteins in the chromosome loop structures can profoundly affect overall gene expression. According to recent cancer genome sequencing studies, somatic mutations in the CTCF protein and the cohesion complex are frequently developed in various solid tumors, and these mutations can modify the insulated neighborhoods all over the genome, thereby rendering chromatin more accessible to oncogenic transcriptional signaling for carcinogenesis[61,62].
There are classes of cis-regulatory elements that have significant roles in cancer biology: super-enhancers and insulators that form the insulated neighborhoods. Super-enhancers are regions of the genome comprising multiple enhancers and bind to high densities of transcriptional components to drive genes involved in maintaining specific cell identities. Cancer cells attain super-enhancers for driving the expression of oncogenes through various mechanisms[29,63,64], including DNA translocation[63], focal amplification[65], small insertions and deletions[66], and epigenomic mechanisms[67]. Somatic mutations in loop anchors of insulated neighborhoods around oncogenes also frequently occur in diverse cancers. Of note, DNA-binding motif of the CTCF protein in loop anchor regions is one of the most frequently altered TF-binding sequences in human cancer[68].
In addition, transcriptional dysregulations are known to be tightly linked to epigenetic alterations, contributing to pervasive gene expression changes in cancer[69-71]. Epigenetic alterations are heritable and a dynamic process, altering the phenotypes by dysregulating gene expression without changes in DNA sequences. Epigenetic changes include DNA methylation, histone modifications, and the regulation of non-coding RNA[72]. These changes could lead to chromatin remodeling, resulting in profound changes of gene expression profiles in cancer[72]. This epigenetic regulation allows the genome-wide transcriptional dysregulation independent of genetic change in cancer. Interestingly, the chromatin features of cell-of-origin are known to be strong predictors for cancer mutation profiles[73], suggesting chromatin alterations as critical drivers for cancer development.
Transcriptional Regulation for Maintaining Cancer Stem Cells
For effective targeting of transcription regulators for treatment of ATC, emerging knowledge about the roles of cancer stem cells (CSCs) should be considered. The prevailing hypothesis has been that CSCs are responsible for treatment resistance and tumor relapse in aggressive cancers including ATC. CSCs are a subpopulation of cancer cells having features similar to normal embryonic stem cells (ESCs), such as self-renewal ability and pluripotency[74]. CSCs are endowed with the ability for self-renewal and for initiating tumors at low cell density. They can also enable a considerable portion of tumor cells to be differentiated according to tumor microenvironment. CSCs are more resistant than non-CSCs to anti-cancer therapy. Such resistance enables CSCs to evolve in the clonal selection for aggressive phenotype[75,76].
Numerous studies have indicated transcriptional regulation is essential for maintaining ESC status. This transcriptional regulation is mainly mediated by pluripotency TFs such as Oct4, Sox2, Nanog, and MYC. Chromatin immunoprecipitation studies revealed extensive co-binding of Oct4, Sox2, and Nanog at many active and silent genomic target regions in ESC, indicating their role in activating other pluripotency-related factors and simultaneously suppressing lineage-specific genes[77,78]. While Oct4, Sox2 and Nanog cooperate with the mediator complex to recruit RNA Pol II for gene transcription[79], MYC controls the transcriptional pause release of RNA Pol II through p-TEFb[80] and induces the stem cell-like state by epigenetic reprograming[81]. Interestingly, ESC-specific genes including the pluripotency TFs and their activation targets are preferentially and frequently overexpressed in poorly differentiated aggressive human cancers[82-84]. Furthermore, this ESC-like gene signature is associated with poor clinical outcomes in those cancers, supporting existence of CSCs and their clinical significance[82]. More importantly, the genome of ESC is transcriptionally and globally hyperactive and undergoes large-scale silencing during differentiation. This transcriptional hyperactivity in ESCs is mediated by aberrant expression of the general transcriptional machinery and chromatin remodeling genes, indicating the global hyperactive transcription as a hallmark of pluripotent ESC and CSC, contributing to their plasticity[85-89]. Therefore, targeting transcriptional regulators would have clinical benefits for CSC depletion and re-differentiation in the treatment of ATC.
DECLARATIONS
Acknowledgments
We wish to thank all our colleagues and collaborators who have contributed to the work presented in this review. We regret not being able to cite the work published by many others due to the limitation of length. Graphics programs available from BioRender.com were used by the authors to design and create Figure 1.
Authors' contributions
Conception and design: Lee WK, Cheng SY
Writing, review, and revision: Lee WK, Cheng SY
Financial support and sponsorship
Our research was supported by the Intramural Research Program of the Center for Cancer Research, National Cancer Institute, National Institutes of Health (ZIA BC 011191).
Conflicts of interest
Both authors declared that there are no conflicts of interest.
Ethical approval and consent to participate
Not applicable.
Consent for publication
Not applicable.
Copyright
©The Author(s) 2021.