INTRODUCTION
In the past couple of years, we have witnessed a "third" revolution in the medical treatment of metastatic renal cell carcinoma (mRCC). After the development of targeted therapies and subsequently of single-agent immunotherapy, the outcome of our patients, affected by this once-orphan disease, has been further improved by the use of immune-based combinations, including either two different immune checkpoint inhibitors, or one vascular endothelial growth factor receptor-tyrosine kinase inhibitor (VEGFR-TKI) and one immune checkpoint inhibitor (ICI).
To date, five of these combinations have been tested within phase III trials; four of them yielded a significant overall survival (OS) benefit (Ipilimumab + Nivolumab, Pembrolizumab + Axitinib, Nivolumab + Cabozantinib, and Pembrolizumab + Lenvatinib)[1-4]. While the combination of Avelumab + Axitinib reached the study primary endpoint, it only demonstrated a significant progression-free survival (PFS) benefit[5]. All these combinations were ultimately approved by different regulatory authorities, and are indeed included in the most important international guidelines[6-8].
Another combination, Atezolizumab + Bevacizumab, although yielding formally positive results within another phase III study[9], has not been registered, and its development in mRCC has been stopped due to conflicting results.
Here, we are going to review the results achieved by means of these novel combinations (with the exception of the Atezolizumab + Bevacizumab combination), and discuss how to practically select the best treatment choice for any new given patient entering our hospitals.
DISCUSSION
Given all the data above presented, how can we navigate between them? Or, in other words, how can we make treatment choices in real world?
First of all, we should avoid making direct comparisons between studies which are extremely different in terms of: agents used, study endpoints, primary efficacy patient populations, different follow-up (meaning that there are still many immature data), distribution of patients between the three IMDC prognostic groups, and, as a consequence, also results.
Despite all the above, it is almost impossible not to do some general considerations.
First, the Pembrolizumab + Lenvatinib combination seems to be the more potent, having achieved astounding PFS benefit, the largest ever observed in mRCC, together with an unprecedented disease control rate (90%) and percentage of complete responses (16%)[4]. However, we should beware of patient selection. Indeed, among the discussed trials, CLEAR[4] has enrolled the lower amount of IMDC poor risk patients (9%) and, together with Checkmate 214[1], the larger amount of intermediate risk patients (60%).
A high treatment activity has also been observed in Keynote 426 (with almost the same issue relative to patient selection as in CLEAR)[2], as well as in Checkmate 9ER[3], where there is probably a better balance in terms of patient selection.
In terms of OS, still the "Holy Grail" of oncology, a similar reduction in the risk of death was recorded across all trials (35%, 32%, 34%, and 34% for Checkmate 214, Keynote 426, Checkmate 9ER, and CLEAR, respectively): however, we should also acknowledge that OS data in CLEAR are not completely mature, a huge amount of censoring being evident after the 12-month mark[4]; furthermore, the HR for OS increased from the second interim analysis to the third one (i.e., from 0.47 to 0.66), although realistically due to the effect of the use of post-progression treatments in the control arm[4].
As far as the all-immune combination tested within Checkmate 214, it is important to highlight the patient selection made a priori. The study, although enrolling all newcomers, was indeed designed to demonstrate efficacy in IMDC intermediate and poor-risk patients[1].
Some interesting considerations may also come from the analysis of the shapes of the curves of these trials, particularly important when immunotherapy is concerned.
Taking a look at the PFS curves of Checkmate 214, it is clear that no separation of the curves occurs for the first months[1], as shown in Figure 1; as a combination of two ICIs, Ipilimumab + Nivolumab requires time to activate and expand the effector populations of the immune system, and thus the heads of the curves separate later compared with what is observed with the combination of an ICI and a VEGFR-TKI. At least theoretically, this means that, in the case of a very aggressive tumor, we risk losing a certain number of patients during the first months of treatment.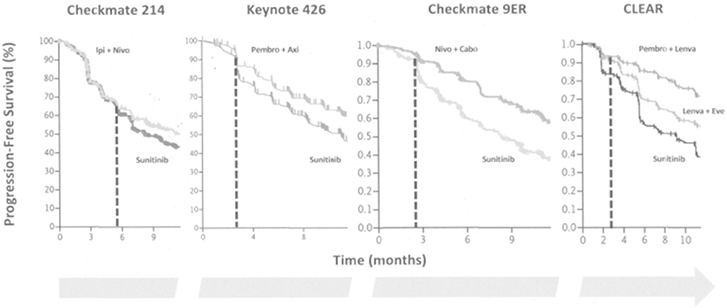 After these initial months, separation of the curves, and consequently, a positive impact on median survival occurs; thus, there is no surprise in the observation that four out of five of the considered combinations were able to improve OS over the same control treatment (i.e., Sunitinib).
The lack of OS impact of the Avelumab-based combination might be related to a lower activity/efficacy of anti-PD-L1 agents, as compared to anti-PD1 (at least in mRCC), as also suggested by the results of the IMmotion 151 trial of Atezolizumab + Bevacizumab[9]. Indeed, it is clear that not all ICIs are born equal[17], although these differences may also be dependent on specific tumor types.
Finally, with immunotherapy, a survival plateau is often observed after few years, suggesting the presence of a certain number of long-survivors ("cured") patients. For sure, this tail looks striking in Checkmate 214[1,11-13], although follow-up periods across the different studies are too different to draw definitive conclusions. Furthermore, it is definitely too early to confirm the presence of cured patients by any of the tested immune-based combos.
As a whole, the only possible, though highly empiric, present driver of our therapeutical choice could be the biological aggressiveness of the tumor. Indeed, in the case of a very aggressive disease, the use of an ICI plus a VEGFR-TKI seems a very reasonable choice, in order to try to control early disease growth, while waiting for the "tail" effect of immunotherapy.
Otherwise, one could head for the long-term benefit of the immune combination, trying to spare the additional toxicities deriving from the continuous use of the VEGFR-TKI.
In conclusion, with the present lack of biomarkers predictive of response from (or, on the contrary, of inefficacy of) the different available treatments[18], we should still rely just on clinical parameters (like those included in the IMDC risk classification system), personal judgement, and experience.
As far as safety, it is usually considered another key element for choosing the best treatment for each given patient. In the recent past, Bracarda et al.[19] proposed that the polarizing toxicity of each treatment (i.e., the most frequent toxicity) should be used to create a new algorithm able to identify those patients unquestionably unsuitable for each therapy, across different treatment lines.
Although a useful practical suggestion, this approach is now flawed by the fact that the safety profiles of combinations of an ICI plus a VEGFR-TKI are extremely similar, not to take into account that the trade-off between efficacy and safety a first line patient is willing to accept is usually unbalanced in favor of efficacy.
Furthermore, beyond the number and severity of TRAE, we should also consider their relative duration. Indeed, multiple, long-lasting, low-grade, adverse events usually negatively impact on patients' quality of life more than single, high-grade, toxicities, especially if rapidly resolving; not to take into account that, for patients treated with the Ipilimumab + Nivolumab immune combination, severe adverse events are mainly limited to the induction phase, when both ICIs are simultaneously given, while they tend to be less troublesome during the Nivolumab-alone maintenance phase of the treatment.
In conclusion, waiting for more mature trial data, as well as for real-world experiences, in the absence of validated biomarkers, our first line treatment choice cannot but rely on methodologically incorrect treatment comparisons, personal preferences, and experience.
DECLARATIONS
Authors' contributions
Made equal contribution in the collection and critical interpretation of the data summarized in this manuscript: Porta C, Rizzo M
Availability of data and materials
Not applicable.
Financial support and sponsorship
None.
Conflicts of interest
Porta C acted as a Consultant and/or Speaker for Angelini, Astra Zeneca, BMS, Eisai, EUSA, General Electric, Ipsen, Janssen, Merck, MSD, Novartis and Pfizer; as an Expert Testimony for EUSA and Pfizer; and as a Protocol Steering Committee Member for BMS, Eisai and EUSA; finally, he received travel support from Roche. Rizzo M acted as a Consultant and/or Speaker for Novartis, Pfizer, and MSD.
Ethical approval and consent to participate
Not applicable.
Consent for publication
Not applicable.
Copyright
© The Author(s) 2021.