Standard of care
Despite extensive work that has been accomplished in understanding and elucidating the diverse pathological drivers of DLBCL, several attempts at improving our first-line therapy for DLBCL have failed. Although several rational attempts have been made to improve the R-CHOP backbone[23,39-49], with a particular emphasis on ABC/non-GC-DLBCL subtype, only two trials have been successful in achieving their primary endpoints over the past two decades. For instance, clinical trials evaluating the merit of adding lenalidomide to R-CHOP backbone(E1412 and ROBUST)[24,50] as well as ibrutinib (PHOENIX)[49], all seemed like promising interventions, but only one (E1412) of the three trials successfully demonstrated an improvement in PFS[50]. Although there is a multitude of reasons why these trials differ in the outcome, leading thoughts include different methods and approaches to identifying ABC/non-GC DLBCL patients, the longer interval from the time of diagnosis to initiation of treatment in the ROBUST study compared to E1412, and lastly, differing dosing of lenalidomide in ROBUST vs. E1412. It is not until recently, with the addition of a novel antibody-drug conjugate against CD79, polatuzumab-vedotin, to the R-CHOP backbone[51], that we have observed an improvement in the first-line setting in a large randomized, phase III clinical trial setting. Other attempts to improve upon the R-CHOP backbone are currently on-going including the addition of other monoclonal antibodies, such as tafasitamab and bispecific antibodies, all of which can be applied irrespective to COO, similar to polatuzumab-vedotin, thus circumventing the pre-requisite need to identify DLBCL genetic subgroups prior to enrollment/treatment.
For those who relapse, the standard of care remains chemoimmunotherapy salvage therapy followed by consolidation with autologous stem cell transplant (ASCT)[52,53], at least for those who are deemed clinically fit. However, given that DLBCL is often a disease of the elderly, ASCT may not be a feasible option, leaving a clear unmet need for these patients. The more recent approvals in CAR-T cellular therapy seem promising [54-57], especially for patients who are chemo-refractory to R-CHOP and/or salvage chemotherapy; however, it is clear that the majority of patients will relapse after CAR-T cell therapy. In the following section, we will discuss recently FDA-approved agents and their applicability to the treatment paradigm of DLBCL as well as novel agents in the pipeline that leverage our understanding of the various oncogenic drivers elucidated by the recent molecular classifications [Figure 1], [Table 2]. For discussion purposes, we have organized the following section based on COO, rather than the new classification systems, and highlight some potential agents that can target high-risk subgroups as delineated by LymphGen and cluster taxonomies.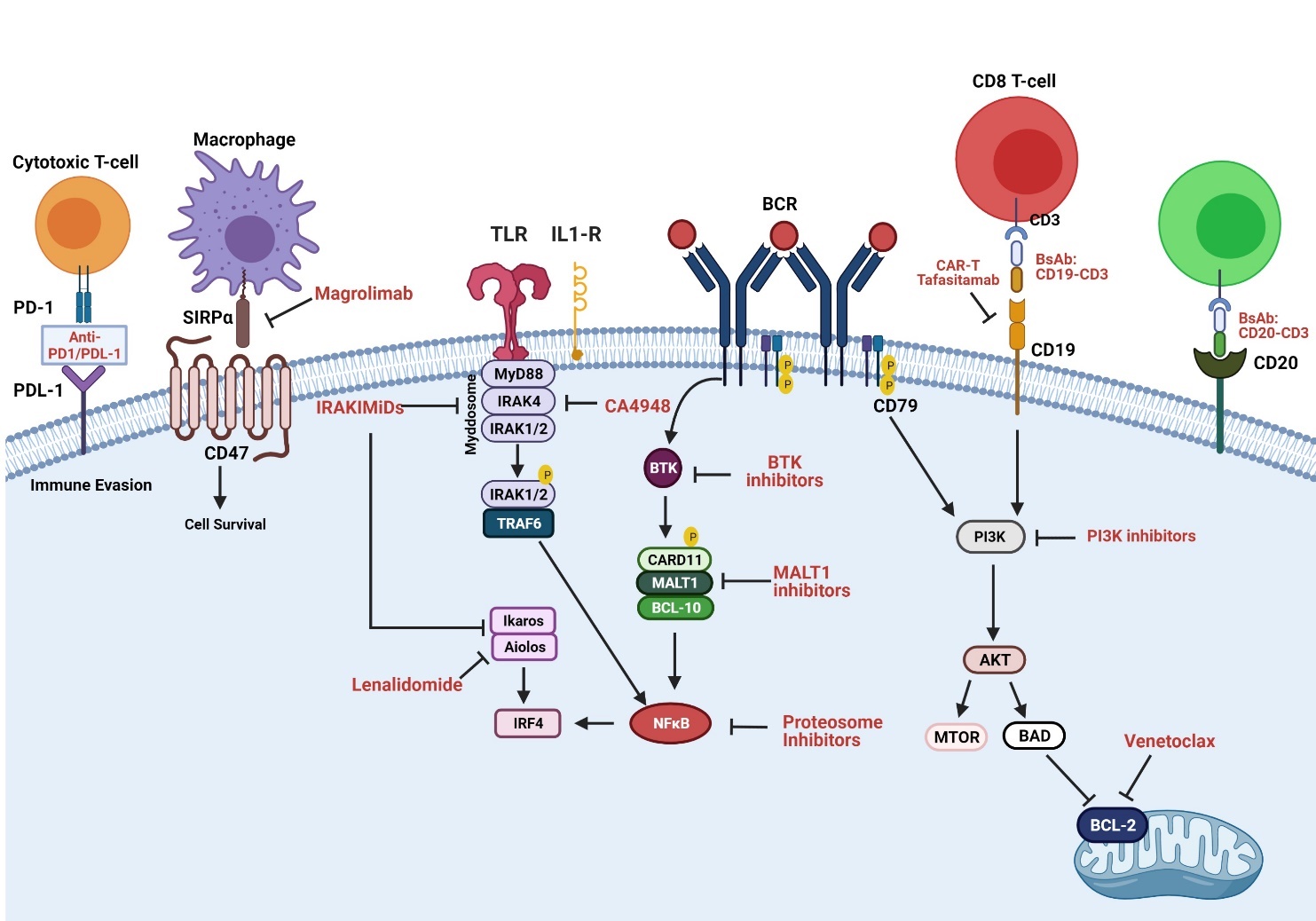 Figure 1. Novel Agents Targeting Specific Biological Pathways in Diffuse Large B-cell Lymphoma. B-cell receptor (BCR) pathway is affected in both GC- and ABC-DLBCL subtypes. Chronic BCR signaling, as manifested by BCR clustering, is a hallmark of ABC-DLBCL, and mimics antigen-dependent BCR activation. Tonic BCR signaling (antigen-independent, no BCR clustering) is a characteristic of GC-DLBCL, and is NF-κB-independent. Mutations in proteins involved in BCR signaling and interrelated pathways include CD79B, CARD11, A20, and LYN. MYD88 L265P mutations lead to lymphomagenesis through activation of the TLR and IL1R pathways independent of ligand stimulation and have been highlighted in newer molecular classifications. Small molecule inhibitors (IRAK4, BTK, MALT1, PI3K, BCL2), protein degraders (IRAK4), antibody/antibody-conjugates (Polatuzumab-vedotin, Tafasitamab, magrolimab), and cellular therapy (CAR-T) have been developed in order to target these specific aberrations to mitigate lymphomagenesis. BCL2: B-cell lymphoma 2; BCR: B-cell receptor; BsAb: Bispecific antibodies; BTK: Bruton tyrosine kinase; ILR: Interleukin receptor; MALT1: mucosa-associated lymphoid tissue lymphoma translocation protein; PI3K: phosphoinositide 3-kinase; SIRPα: signal-regulatory protein alpha. Created with BioRender.com.
Table 2
Novel therapeutics and combinations for diffuse large B-cell lymphoma
ABC-DLBCL
Drug
Mechanism of Action
Clinical Trial
Outcome
Ibrutinib[64,66]
Bruton Tyrosine Kinase Inhibitor
Phase 1-2 R/R DLBCL



Phase 3 Upfront DLBCL
Ibrutinib+R-CHOP vs. R-CHOP
ORR: 37% (14/38)
• MYD88/CD79 Mut: ORR: 80% (4/5)


ORR (ITT): 89.3% vs. 93.1% (P = 0.0515)


Acalabrutinib[67,69,70]
Bruton Tyrosine Kinase Inhibitor
Phase 1-2 R/R DLBCL[67]

Phase I PRISM:
Acalabrutinb+AZD9150
Acalabrutinib_AZD6738
Acalabrutinib+Magrolimab+ Rituximab
Acalabrutinib+AZD5153

Phase 1-2 Acalabrutinib + R-CHOP


Phase 1-2 Acalabrutinib + R-EPOCH
ORR: 24% (5/21)

N/A
(NCT03527147)




N/A
(NCT0400294)

N/A
(NCT03571308))
CA-4948[74,75]
IRAK4
Kinase Inhibitor
Phase 1

Phase 1
CA-4948+Ibrutinb
N/A, 1 PR
(NCT03328078)

N/A
(NCT0332878)
KT-413[76,77]
IRAK4/IMiD PROTAC
Pending
N/A
JNJ-67856633[88]
MALT1 Inhibitor
Phase 1
N/A
(NCT03900598)
GC-DLBCL
Tazemetostat[121,122]
EZH2 Inhibitor
Phase 2


Phase 1b/2
Closed After Interim Assessment
(NCT01897571)

N/A
(NCT02889523)
Valemetostat[124]
EZH1/2 Inhibitor
Phase 1

ORR: 15% (R/R NHL)(NCT02732274)
Fimepinostat[128-130]
HDAC/PI3K Inhibitor
Phase 1-2
Fimepinostat
Fimepinostat+Venetoclax
Fimepinostat+Rituxan
Fimepinostat+Venetoclax+Rituxan
ORR: 55% (5/9)
ORR: 23.3% (14/60 MYC-altered DLBCL)
(NCT01742988)


Venetoclax[136,137]
BCL2 Inhibitor
Phase 1 CAVALLI Study
Venetoclax+R-CHOP

Phase 1 ALLIANCE 51701
Venetoclax+DA-R-EPOCH

ORR: 87.5%
(NCT02055820)

ORR: 97%
(NCT03036904)
Agnostic
PolatuzuambVedotin[51,139]
Antibody-Drug Conjugate against CD79b linked to MMAE
Phase 1b/2
Polatuzumab+BR vs. BR


Phase 3
Polatuzumab+R-CHP vs. R-CHOP
Objective Response: 45.0% vs. 17.5%
CR 40% vs. 17.5%
OS 12.4 vs. 4.7 months
(NCT02257567)

ORR: 85.5% vs. 83.8%
CR: 78.0% vs. 74.0%
Decrease risk in progression/relapse/death: HR: 0.73; 95%CI 0.57-0.95; P = 0.02
(NCT03274492)
Tafasitamab[141-143]
Anti-CD19 monoclonal Ab
Phase 1-2 L-MIND
Tafasitamab+Lenalidomide



Phase 3 FIRST-MIND
Tafasitamb+Lenalidomide+R-CHOP
ORR: 54%
CR: 32%
NCT02399085

N/A
NCT04134986
Loncastuximab tesirine[144]
Antibody-Drug conjugate against CD19
Phase 2
ORR: 48.3%
CR: 24%
PR: 24%
(NCT03589469)
Magrolimab146,147
Anti-CD47 monoclonal Ab
Phase 1b in R/R DLBCL and FL
Objective Response: 40% DLBCL)
CR: 30% (DLBCL)
(NCT02953509)
Mosunetuzumab[147,148]
CD3-CD20 BsAb
Phase I/Ib



Phase Ib/II
Mosunetuzumab+CHOP or Polatuzumab+CHP
ORR: 37%
CR: 19%
(NCT02500407)

N/A
(NCT03677141)
Odronexatamab[149]
CD3-CD20 BsAb
Phase I
ORR: 60% (CAR T-cell Naïve)
CR: 60% (CAR T-cell Naïve)
ORR: 33.3% (Refractory CAR T-cell)
CR: 23.8% (Refractory CAR T-cell)
(NCT02290951)

Epicoritamab[150]
CD3-CD20 BsAb
Phase I/II
ORR: 100% (DLBCL) at 48mg
CR: 28.6% (2/7)
PR: 71.4% (5/7)
(NCT03625037)
Glofitamab[151,152]
2:1 CD20-C3 BsAb
Phase I/Ib
ORR: 50% (aggressive NHL)
CR: 29.2%
(NCT03075696)
CMG1A46[153]
Trispecific Ab: CD19-CD20-CD3
Pending
N/A
Selinexor[170]
XPO-1 Mediated Nuclear Transport Inhibitor
Phase 2
ORR: 28%
CR:12%
(NCT02227251)
Targeting specific molecular drivers
Novel agents for the treatment of ABC-DLBCL
ABC-DLBCLs are characterized by the overactivation of B-cell receptor (BCR) and NFκB pathways. Loss of function mutations/homozygous deletions in A20[58,59], and gain of function mutations in CARD11[58,60], CD79 A/B[61], MYD88[62], as well as the role of CARD11-BCL1-MALT1 complex[63-65], have all been implicated as drivers of the NFB pathway in ABC-DLBCLs, and attempts to target these pathological drivers have been made in the past several years. Based on the new molecular classifications, BCR-dependent NFκB signaling is prevalent in the MCD, A53, and BN2 subtypes, with MCD DLBCLs having an intermediate-poor prognosis after standard of care [4].
One of the first approaches of targeting NFB in ABC-DLBCL was the interrogation of proteasome inhibitors, such as bortezomib. Although thought to have pleotrophic effects, bortezomib and other proteasome inhibitors have been used to downregulate NFB activity via inhibition of IB degradation. However, two frontline studies comparing the addition of bortezomib to R-CHOP vs. R-CHOP in ABC-DLBCL patients failed to reach their primary endpoints of improved PFS [47,48].
Another more selective approach to target the ABC-subtype is the inhibition of the Bruton tyrosine kinase (BTK), which is an essential member of the BCR pathway. Ibrutinib, a first-in-class covalent inhibitor of BTK, demonstrated single-agent activity in patients with R/R DLBCL with an ORR of 37% (14/38) in ABC-DLBCL patients, and a more impressive response in patients with dual mutations in MYD88 and CD79A/B, albeit a small sample size (ORR 80%, 4/5)[66]. Phelan et al.[64]elucidated a possible mechanism driving ibrutinib responses in ABC-DLBCL, describing a My-T-BCR complex comprising MYD88-TLR9-BCR that interacts with mTOR within endolysosomes to activate downstream NFkB signaling. The My-T-BCR complex was found to be present in ABC-DLBCL cell lines as well as primary patient tumors that responded to ibrutinib, and responses were also noted in the absence of dual mutations in MYD88 and CD79A/B. Given these promising pre-clinical and clinical data, a phase III randomized clinical trial was launched in patients with non-GC DLBCL but failed to demonstrate any additive benefit to R-CHOP[49]. In a pre-planned analysis, patients younger than 60 years of age benefited based on an improved PFS and event-free survival (EFS); on the other hand, those older than 60 years of age suffered from increased toxicity leading to reduced intensity therapy, likely contributing to reduced efficacy. One can also postulate that using a less robust strategy of IHC to identify high-risk patients as non-GC DLBCL may have also impacted the results. Nonetheless, retrospective GEP analyses of available tumor samples from the PHOENIX trial were also analyzed, and there was no improvement of EFS, PFS or OS when adding ibrutinib to R-CHOP. Next-generation BTK inhibitors are in the investigation for the treatment of DLBCL, including the less toxic acalabrutinib. In the relapsed/refractory (R/R) setting, acalabrutinib has been evaluated as a single agent (ORR of 24%, 5/21)[67] and more recently in a 4-arm Phase I study (PRISM) that evaluates acalabrutinib in combination with one of the following: AZD9150, an antisense oligonucleotide against STAT3 mRNA; AZD6738, an inhibitor of ATR; magrolimab (anti-CD47) and rituximab; or AZD5153, a BRD4 inhibitor[68]. Acalabrutinib is also being studied in the upfront setting (NCT0400294, NCT03571308) in combination with R-CHOP or DA-R-EPOCH. Unlike ibrutinib, early data suggests that acalabrutinib does not compromise the ability to administer R-CHOP regardless of age[69,70].
IRAK4 has been a recent target for the treatment of MYD88-mutated DLBCLs, which represent a subgroup with inferior outcomes (MCD and C5 subgroups). IRAKs are key mediators of the toll-like receptor (TLR) and interleukin-1 receptor (ILR) signaling pathways and are essential in the innate immune system, inflammation, apoptosis and cancer biology. TLR/ILR signaling is mediated through recruitment of MYD88, an adaptor molecule, which forms the core of the Myddosome complex along with IRAK4[71,72]. Upon ligand binding, TLR/ILR dimerize or oligomerize, leading to the recruitment MYD88 which then interfaces with IRAK4 through death domains[71]. The most common MYD88 mutation substitutes leucine 265 for a proline (L265P) and leads to constitutive activation and formation of the Myddosome (MYD88-IRAK4-IRAK1/2), independent of ligand binding, leading to activation of downstream effectors including NFқB transcriptional pathway and thus oncogenesis[73]. Given its role in DLBCL lymphomagenesis, IRAK4 has been identified as a potential therapeutic target. The IRAK4 inhibitor, CA-4948, has completed phase I evaluation in R/R NHL, including DLBCL, with an identified recommended phase II dosing (RP2D) of 300mg oral twice daily[74]. The treatment was overall well tolerated, with no grade 5 adverse events, and only two treatment associated discontinuations secondary to increase amylase and rash. At therapeutic treatment doses ( 200mg BID), a range of tumor reduction was observed (5-67%). Twenty of the 31 patients enrolled had available information for MYD88 status, and of the 20, two harbored an MYD88 mutation, with one patient achieving a partial response. Based on a synergistic relationship observed in vivo, the combination of ibrutinib in conjunction with CA-4948 is currently being evaluated in a multicentered, phase I study in patients with R/R NHL[74,75].
Another novel method of targeting IRAK4, has been the development of Proteolysis Targeting Chimeras against IRAK4. These small molecules target specific proteins for degradation by cross-linking pathogenic proteins to E3 ubiquitin ligases, leading to ubiquitination of the target protein. This serves as a rationale mechanistic approach to eliminate oncogenic signaling. These first-in-class heterobifunctional degraders represent an innovative approach that could revolutionize cancer therapy. In contrast to IRAK4 kinase inhibitors, a strategy of targeting IRAK4 degradation would completely nullify the protein's dual role as both a kinase and scaffolding protein, and potentially circumnavigate internal resistance. First-in-class heterobifunctional selective IRAK4 degrader, KYM-001[76], demonstrated potent efficacy in MYD88-mutated lymphomas. IRAKIMiDs, which are novel IRAK4 degraders that utilize a cereblon binder leading to dual targeting of IRAK4 degradation and capitalizing on immunomodulatory(IMiD) biology, also demonstrates activity in MYD88 mutant DLBCL[77]. In pre-clinical models, IRAKIMiDs in conjunction with ibrutinib, venetoclax and umbralisib have proven to be synergistic[78], suggesting a possible multidrug platform using IRAKIMiDs as a backbone in order to potentially downregulate several oncogenic pathways simultaneously. Further clinical studies are required to validate these promising pre-clinical data with plans for KT-413, the lead IRAKIMiD, to enter clinical evaluation in 2022.
The development of MALT1 inhibitors is being intensively investigated and has demonstrated pre-clinical activity in ABC-DLBCL[79-86]. BCL10 gain of function mutations, most commonly found in BN2/C1 subgroups[2,3], have been associated with increased MALT1 and NFқB activity, as well as resistance to ibrutinib[87]. When exposed to JNJ-67856633, a MALT1 inhibitor, ibrutinib-resistant ABC-DLBCL cell lines were characterized by growth inhibition, supporting the therapeutic application of MALT1 inhibitors in ABC-DLBCL, especially those with BCL10 mutation and ibrutinib-resistance. At this time, a phase I study (NCT03900598) is currently on-going investigating JNJ-67856633 in R/R NHL (NCT03900598)[88].
PD-L1 expression has been associated with inferior outcomes and found in higher expression in ABC-DLBCL as compared to GCB-DLBCL[89,90], and therefore has been another target for the advancement of DLBCL treatment. It is thought that tumor cells exploit immune checkpoint pathways in order to evade the host immune system. However, single-agent immune checkpoint inhibition (nivolumab) displayed limited efficacy in R/R DLBCL, demonstrating an ORR of 3% and 10% for patients who relapsed after ASCT and were ineligible for ASCT, respectively[91]. Notably, the incidence of 9p24.1 alterations was low (16% low-level copy gain, 3% amplification) and may partially explain the poor efficacy results after administration of nivolumab. The addition of PD1/PD-L1 inhibitors in the upfront setting has also been evaluated, postulating that upfront utilization may lead to better outcomes by optimizing a relatively more intact immune system. As such, pembrolizumab (anti-PD1) in combination with R-CHOP produced an ORR of 90% (27/30) and a PFS of 83% (NCT02541565)[92]. A Phase I/II clinical trial investigating the addition of durvalumab (anti-PD-L1 antibody) to R-CHOP or R2CHOP [lenalidomide + R-CHOP backbone] (NCT03003520) was initiated, however the R2-CHOP + durvalamub enrollment (Arm B) was halted due to increased deaths in patients with Multiple Myeloma treated with durvalumab and lenalidomide[93,94]. The CR rate at the end of induction was 54% and 67% for Arm A (n = 43) and Arm B (n = 3), respectively, with consolidation therapy with durvalumab offered to patients who responded. Another potential platform to incorporate immune checkpoint inhibition is the notion of sequential therapy, during which PD1/PD-L1 inhibition is used as induction, followed by R-CHOP, and concluding with PD1/PD-L1 inhibition maintenance. The rationale behind this sequential therapy is to maximize the potential efficacy of PD1/PD-L1 inhibition by avoiding corticosteroid-induced immunosuppression that could be observed when adding immune checkpoint inhibition directly to the R-CHOP backbone. This is the approach that Hawkes and colleagues adopted, where avelumab is combined with rituximab as induction, followed by R-CHOP x 6 cycles, and avelumab maintenance x 6 cycles[95]. Induction with avelumab and rituximab x 2 cycles led to a CR rate of 21% and ORR of 60%, followed by an ORR of 89% after six cycles of R-CHOP. Further studies will be needed to fully elucidate the role of immune checkpoint inhibitors in the frontline setting for DLBCL.
Targeting GC-DLBCL
Although patients with GCB-DLBCL generally have superior clinical outcomes compared to ABC-subtype, approximately 20% of GCB patients will relapse following standard of care R-CHOP. Moreover, our understanding of the molecular heterogeneity of DLBCL has revealed that DLBCLs with MYC-aberrations tend to have an inferior prognosis compared to those who do not harbor MYC-derangements. Approximately 5% to 14% of DLBCL cases have been reported to carry MYC translocations[28,96], and of those, 58% to 83% will also be characterized by a second or third translocation targeting BCL2 and/or BCL6, which are referred to as DHL or THL, respectively[97-99]. In fact, DHL/THL patients have a median OS rate of less than two years[27,100-102]. Moreover, MYC overexpression has also been associated with worse outcomes after first-line R-CHOP[97], and can also be frequently observed in conjunction with BCL2 overexpression (Double Expressors), which often coincide with an ABC-DLBCL categorization[27,29,103]. Thus, it has been clearly established that R-CHOP therapy is suboptimal for the treatment of MYC-altered DLBCLs, and the current treatment paradigm favors more dose-intense approaches, such as DA-EPOCH-R, (Dose-Adjusted-Etoposide, Prednisone, Oncovorin, Cyclophophamide, Doxorubicin, Rituximab) in the upfront setting.
Pre-clinical data has demonstrated that the epigenome of GCB-DLBCL is dysregulated. Deregulation of histone methyltransferases, such as EZH2 and mixed-lineage leukemia (MLL), have been associated with the development of lymphomas, particularly GC-derived lymphomas[104-107]. Given the recognition of EZH2 activating mutation in GC-derived lymphomas, such as follicular lymphoma (FL) and DLBCL, EZH2 inhibitors have been developed based on single-agent activity observed in pre-clinical models of DLBCL[104,108-119]. Tazemetostat, a first-in-human EZH2 inhibitor, has been FDA approved for the treatment of R/R FL irrespective of mutational status. Despite initial promising responses observed in phase I investigation, a dedicated phase II clinical trial of tazemetostat in conjunction with prednisolone in DLBCL (NCT01897571) was closed after an interim assessment[120,121]. Clinical investigation of tazemetostat in combination with R-CHOP is on-going at this time (EPI-RCHOP, NCT02889523). The addition of tazemetostat thus far does not seem to compromise R-CHOP dose-intensity[122]. Valemetostat, a dual inhibitor of both EZH1 and EZH2, is postulated to have improved tumor suppression capabilities, and has demonstrated an ORR of 53% (n = 15) in patients with R/R NHL (B and T-cell lymphoma)[123]. These EZH2 inhibitors would be ideal targets for patients in the EZB MYC-negative and C3 subtypes.
Heterozygous loss of function mutations in histone acetyltransferases (HATs) such as CREBBP and EP300 are found in approximately 39% of DLBCL and FL[124] and cooperate with BCL6 to promote lymphomagenesis. The presence of CREBBP and EP300 haploinsufficiency has been associated with response to histone deacetylase (HDAC) inhibitors in in vitro evaluations[125]; however, it is unclear if this completely translates into the clinic. Nevertheless, single-agent HDAC inhibition for the treatment of DLBCL has modest activity with a reported ORR of 17.1% after treatment with panobinostat[126]. Fimepinostat, a first-in-class dual HDAC and phosphoinositide 3-kinase (PI3K) inhibitor, demonstrated an ORR of 55% (5/9) in patients with DLBCL[127], leading to a dose expansion trial in R/R DLBCL. In the expanded component of this trial, 14 patients with MYC-altered DLBCL, defined as MYC translocated or amplification with ≥3 copies in >20% of cells, were included with an observed ORR of 64% and median duration of response (DOR) of 13.6 months[128]. In a pooled analysis of phase I and phase II study of fimepinostat, a total of 105 patients with R/R DLBCL were enrolled, of which 60 patients had MYC-dysregulated DLBCL (classified as the presence of MYC translocation of MYC overexpression ≥ 40%). The ORR was noted to be 23.3% (14/60), with a median time to response being 2.5 months[129]. Given these promising results in MYC-deregulated DLBCL, a phase I trial investigating the merits of fimepinostat in conjunction with rituximab or venetoclax, or both (NCT01742988) is underway. Given the presence of recurrent epigenetic dysregulation in GCB-DLBCL, pre-clinical and clinical investigation of potential synergistic drug combinations involving multiple epigenetic agents and/or other small molecule therapeutics is warranted.
Bromodomain and Extra-terminal (BET) proteins have also been linked to the activation of MYC and BCL2 signaling pathways, making it a rationale target for DHL[130]. Pre-clinical studies have demonstrated that treatment with JQ-1, an early BET inhibitor, and venetoclax, a BCL-2 inhibitor along with standard vincristine or doxorubicin, led to significant growth delay of DHL/THL cells compared to single-agent treatment[131]. Moreover, exposure to CPI203, a BET inhibitor, can overcome acquired resistance to venetoclax in pre-clinical DHL models[132], supporting the possible applicability of BET inhibitors for the treatment of DLBCL, particularly DHL/THL. Although theoretically promising, several BET inhibitors have entered clinical investigation, however, none to date have gained FDA approval.
The application of venetoclax for the treatment of DLBCL addresses chemotherapy resistance secondary to BCL-2 overexpression, especially in patients with double expressor and DHL[133]. Single-agent activity of venetoclax in R/R DLBCL is modest, with a reported ORR of 18%[134]. Recent studies have incorporated venetoclax into the backbones of R-CHOP (CAVALLI study)[135] and DA-EPOCH-R (ALLIANCE 51701 trial)[136], specifically targeting the DHL/Double Expresser populations. In the R/R setting, venetoclax is being explored in various combinations including ibrutinib/rituximab (NCT03136497), RICE (NCT03064867), Selinexor (NCT03955783), and ibrutinib/prednisone/obinutuzumab/revlimid (NCT03223610, ViPOR). Ultimately the role of venetoclax in the treatment of DLBCL is yet to be firmly established.
Therapeutics agents with activity irrespective of COO
Despite our advances in understanding the molecular heterogeneity of DLBCL, one can argue that perhaps the fastest and smoothest approach to the advancement of DLBCL treatment would be to develop novel drugs that can be applied across subtypes without the need for detailed molecular testing. This, of course, would be a shift away from a precision medicine approach, a central theme in cancer treatment, but in the real-world setting may be more applicable as it would overcome the hindrances and delays that often come with the requirement of specific and sensitive assays. A primary example of this success would be rituximab[137]. Along those lines, novel antibody and antibody-drug conjugates have been developed for lymphoid malignancies, including three recent FDA approvals in the R/R setting. Polatuzumab vedotin, an antibody-drug conjugate against CD79b linked to monomethyl auristatin E, has been approved in conjunction with rituximab and bendamustine (BR) after two failed therapies for transplant-ineligible patients. A phase Ib/II study demonstrated both a superior CR rate (40% vs. 17.5%, P = 0.026) and median OS (12.4 vs. 4.7 months; HR:0.42; 95%CI: 0.24-0.75, P=0.002) of polatuzumab-BR compared to BR alone[138]. Polatuzumab-vedotin has also been evaluated in combination with R-CHP (vincristine omitted due to overlapping toxicities) in a randomized phase III trial for treatment-naive patients[51], resulting in a lower risk of progression/relapse/death as compared to standard of care R-CHOP (HR: 0.73; 95%CI: 0.57-0.95; P = 0.02). However, there was no difference in CRs (78% vs. 74%, respectively, P = 0.16) or OS (2-year: 88.7% vs. 88.6%). Polatuzumab-vedotin is currently under investigation in combination with salvage chemotherapy regimens such as R-GemOx and R-ICE, as well as in combination with venetoclax/rituximab[139], with the latter demonstrating a relative safe toxicity profile and median PFS and OS of 4.4 months and 11.0 months, respectively.
Tafasitamab, a humanized anti-CD19 monoclonal antibody, gained FDA approval in combination with lenalidomide for R/R DLBCL (> 1 prior line of therapy) after the L-MIND study demonstrated an ORR and CR rate of 54% and 32%, respectively, with a median PFS of 16.2 months[140]. In an updated analysis, the median DOR was reported to be 34.6 months[141]. The FIRST-MIND study is evaluating the addition of tafasitamab plus lenalidomide to R-CHOP in intermediate-high risk DLBCL (NCT04134936)[142]. Similarly, loncastuximab tesirine, an antibody-drug conjugate against CD19, received FDA approval in 2021 after results demonstrated an ORR of 48.3%, with a CR rate of 24% (35/145) and a PR rate of 24% (35/145) in a heavily pretreated R/R DLBCL population[143].
CD47 is expressed by malignant cells as a means to evade macrophages and other members of the innate immune system[144]. The novel anti-CD47 monoclonal antibody, magrolimab, is currently in development for R/R DLBCL as well as acute myeloid leukemia. This monoclonal antibody effectively inhibits a "do not eat me" signal and induces phagocytosis of lymphoma cells by inhibiting the interaction of CD47 and SIRP[145]. Thus far, a phase Ib study of magrolimab in conjunction with rituximab for the treatment of R/R DLBCL or FL demonstrated an objective response and CR of 40% and 30%, respectively, for patients with DLBCL[146]. A notable adverse event was anemia (attributed to the elimination of aging red blood cells) and infusion-related reactions which were circumvented by priming (1mg/kg) and subsequent maintenance dosing of magrolimab.
Bispecific antibodies (BsAb) are recombinant bispecific proteins that have the dual binding capacity, recognizing two different antigens, and in turn, are able to redirect T-cells to malignant cells in order to mediate a T-cell response and T-cell directed enhanced tumor cell death. Blinatumomab, the first-in-class CD3-CD19 BsAb, has been approved for relapsed acute lymphoblastic leukemia, with limitations of a short half-life requiring a continuous infusion. Next generation BsAbs have shown promising efficacy in R/R DLBCL, including relapse after CAR T-cell therapy, and are easier to administer compared to blinatumomab. Other benefits of BsAbs are that they are 'off-the-shelf' products, requiring no additional time for manufacturing, such as in the case of autologous CAR-T-cell therapies. Mosunetuzumab, a CD3-CD20 BsAb, is currently being studied in indolent and aggressive NHL and has demonstrated a single agent ORR of 37% (46/124) and CR of 19% (24/124) in patients with aggressive NHL[147]. Notably, of the 30 patients who progressed after CAR T-cell therapy, 18 patients were available for response, with four patients (23%, 4/18) achieving a CR, and a total ORR of 39% (7/18). Twenty-eight percent of patients experienced cytokine release syndrome (CRS), with 1.4% of patients experiencing Grade 3 CRS, all of which resolved with the administration of tocilizumab. Neurological toxicity was observed in 44% of patients, with the majority being Grade 1 and 2 (27.4% and 12.6%, respectively). Mosunetuzumab is currently being evaluated in a host of clinical trials for NHL, including the GO40515 study (NCT03677141), in which mosunetuzumab is combined with CHOP or CHP-Polatuzumab in the first-line setting for DLBCL as well as a single agent in the treatment-naive elderly/unfit patients (NCT03677154)[148].
Several other CD3-CD20 BsAbs have entered clinical development as well. The phase I study of odronexatamab was conducted in a highly refractory patient population, with 80.3% determined to be refractory to their last line of therapy[149]. In patients with R/R DLBCL who were CAR T-cell naive and treated at doses ≥ 80 mg (n = 10), the CR and ORR rate was 60% with a duration of response (DOR) of 10.3 months. Those who were refractory to prior CAR-T cell therapy and treated at ≥80 mg (n = 21), remarkably had an ORR of 33.3%, CR rate of 23.8% and median DOR of 2.8 months. The rates of Grade 3 CRS and neurotoxicity were 6.3% and 2.3%, with one observed Grade 4 CRS event noted. Epicoritamab, a subcutaneous administered BsAb against CD3-CD20, with proposed improved side effect profile due to its route of administration, has completed phase I evaluation with RP2D of 48mg based on pharmacokinetic profiling[150]. In DLBCL patients treated at ≥ 48 mg (n = 7), all patients achieved a response, with 2 of 7 (28.6%) attaining a CR and 5 of 7 (71.4%) achieving a PR. Four patients were treated previously with CAR-T cell therapy, all of which achieved a response (2 CRs, 2 PRs). Lastly, glofitamab, a 2:1 BsAb that bivalently binds to CD20 malignant B-cells and monovalent binding to CD3 on T-cells, has demonstrated superior potency in pre-clinical models compared to 1:1 BsAbs in conjunction with pre-treatment with obinutuzumab (used to mitigate CRS)[151]. The phase I/Ib evaluation of glofitamab demonstrated an ORR of 50.0% in 24 evaluable aggressive NHL patients, and a CR rate of 29.2%[152]. The most common AEs were CRS (57.9%), none of which were Grade 3 or higher, pyrexia (31.6%), neutropenia (28.9%), thrombocytopenia (28.9%) and hypophosphatemia (28.9%). Ultimately, the postulated enhanced tumor killing of this newer class of 2:1 CD20-CD3 BsAb compared to traditional 1:1 binding will require further clinical trial investigation.
Another emerging agent is the trispecific antibody CMG1A46 which engages CD19-CD20-CD3 simultaneously, targeting not only CD19+/CD20+ DLBCL, but also those patients who relapse and lose expression of CD20[153]. In vivo and in vitro studies have demonstrated improved efficacy compared to 1:1 BsAbs, and a phase I clinical trial is planned for the near future.
Another unique class of therapy that leverages immunological aspects is Chimeric antigen receptor T-cell therapy (CAR-T cell therapy). Thus far, autologous CAR-T cell constructs against CD19 (axicabtagene ciloleucel, lisocabtagene maraleucel, tisagenlecleucel) have been FDA approved in patients with R/R DLBCL who have failed two or more lines of therapy. Three large phase III clinical trials have attempted to move the CAR-T cell indication to the second-line setting, particularly evaluating patients who are deemed chemo-resistant (primary refractory or relapsed ≤ 12 months from first-line chemoimmunotherapy). Two of the three randomized trials demonstrated clinical benefit compared to autologous stem cell transplant (Zuma-7, TRANSFORM)[154,155], while the third randomized trial failed to meet its primary endpoint (BELINDA)[156]. Several possibilities have been postulated to reconcile these differences in outcomes, including the high proportion of patients enrolled in the BELINDA trial experiencing progression of disease at week 6 (prior to CAR-T cell infusion) in part due to a delay in CAR-T cell manufacturing (median time to infusion: 52 days, range 31-135 days).
Additionally, as more follow-up data has become available, it has become apparent that approximately 30-50% of patients who initially respond to anti-CD19 CAR-T cell will suffer a relapse, with the majority occurring within one year of infusion[157]. The mechanisms behind some of these relapses have been attributed to limited persistence of the cellular products and downregulation/loss of CD19, leading to antigen escape[158]. Given these findings, potential combinations with targeted agents in combination with autologous anti-CD19 CAR T-cell have been studied. Qin et al.[159] demonstrated that the combination of ibrutinib with lisocabtagene maraleucel led to improved CAR T-cell effector function translating into improved survival of CD19 tumor-bearing mice[159]. Lenalidomide has demonstrated in vivo synergy with both anti-CD19 and anti-CD20 CAR-T cell products[160], and more recently has been documented to induce responses in patients relapsing post-CAR T-cell infusion likely due to both an anti-tumoral effect and immunomodulatory mechanisms[161]. Another way to leverage the immune axis is the addition of PD-1/PDL-1 inhibitors to CAR-T cell products as the expression of PD-1 is enhanced after receipt of anti-CD19 CAR-T cell infusion[162,163]. As proof-of-principle, a case report of a patient with refractory DLBCL who progressed rapidly on ZUMA-1, was administered nivolumab 3 mg/kg (11 days after infusion with axicabtagene ciloleucel), leading to a rapid re-expansion of CAR T-cell product within 48 hours of receipt of nivolumab and eventual reduction of tumor volume after completing two additional nivolumab doses[164]. This, along with pre-clinical data, has laid the foundation for ZUMA-6, which is evaluating axicabtagene ciloleucel in combination with atezolizumab (anti-PD-L1 antibody) in patients with refractory DLBCL[165]. There is also emerging dating supporting the use of PI3K inhibitors during CAR T-cell production as it can enhance the expansion of CD8+ CAR T-cells, with durable persistence and increased efficacy[166]. In addition to combination therapies, novel CAR-T cell products have been explored in order to overcome the resistance associated with anti-CD19 CAR T-cell therapy, including novel autologous CAR-T cell products against CD20[167] and CD22[168], tandem CAR-T cell therapies in which CD19/CD20 are engaged simultaneously[169,170], and the development of allogenic CAR-T cell therapy, with the latter obviating the need for leukapheresis.
Although not immunologically-based, selinexor, an oral inhibitor of XPO1-mediated nuclear transport, has also recently been FDA approved, and its therapeutic index is observed across subtypes. Selinexor demonstrated an ORR of 28% (36/127) with 12% achieving a CR (15/127) in the R/R DLBCL population, and a DOR of 9.3 months (95%CI: 4.8-23.0)[171]. The most common grade 3-4 AEs were thrombocytopenia (n = 58), neutropenia (n = 31), anemia (n = 28), fatigue (n = 14), hyponatremia (n = 10), and nausea (n = 8). Subgroup analysis demonstrated that responses were similar irrespective of COO, age, gender, previous therapy, refractory status and history of ASCT.