1Department of Cancer Biology and Genetics, College of Medicine, The Ohio State University and Arthur G. James Comprehensive Cancer Center, Columbus, OH 43210, USA.
2Department of Medicine, Dentistry and Biotechnology, G. d'Annunzio University of Chieti, Chieti 66100, Italy.
3Current address: Department of Biochemistry and Molecular Genetics, Northwestern University Feinberg School of Medicine, Chicago, IL 60611, USA.
4Division of Medical Oncology, Department of Internal Medicine, College of Medicine, The Ohio State University and Arthur G. James Comprehensive Cancer Center, Columbus, OH 43210, USA.
Correspondence Address: Dr. Vincenzo Coppola, Department of Cancer Biology and Genetics, College of Medicine, The Ohio State University and Arthur G. James Comprehensive Cancer Center, 460 West 12th Avenue, Columbus, OH 43210, USA. E-mail: vincenzo.coppola@osumc.edu
Abstract
Non-small cell lung cancer (NSCLC) remains the leading cause of cancer-related deaths in the Western world. Despite progress made with targeted therapies and immune checkpoint inhibitors, the vast majority of patients have to undergo chemotherapy with platinum-based drugs. To increase efficacy and reduce potential side effects, a more comprehensive understanding of the mechanisms of the DNA damage response (DDR) is required. We have shown that overexpression of the scaffold protein RAN binding protein 9 (RANBP9) is pervasive in NSCLC. More importantly, patients with higher levels of RANBP9 exhibit a worse outcome from treatment with platinum-based drugs. Mechanistically, RANBP9 exists as a target and an enabler of the ataxia telangiectasia mutated (ATM) kinase signaling. Indeed, the depletion of RANBP9 in NSCLC cells abates ATM activation and its downstream targets such as p53 signaling. RANBP9 knockout cells are more sensitive than controls to the inhibition of the ataxia and telangiectasia-related (ATR) kinase but not to ATM inhibition. The absence of RANBP9 renders cells more sensitive to drugs inhibiting the Poly(ADP-ribose)-Polymerase (PARP) resulting in a "BRCAness-like" phenotype. In summary, as a result of increased sensitivity to DNA damaging drugs conferred by its ablation in vitro and in vivo, RANBP9 may be considered as a potential target for the treatment of NSCLC. This article aims to report the results from past and ongoing investigations focused on the role of RANBP9 in the response to DNA damage, particularly in the context of NSCLC. This review concludes with future directions and speculative remarks which will need to be addressed in the coming years.
Keywords
RANBP9, RANBP10, Scorpins, DNA damage, DNA repair, DNA damage response, CTLH complex, cisplatin, non-small cell lung cancer, PARP, BRCAness-like phenotype
Outline
As an introduction, we will briefly mention the state-of-the-art strategies in the treatment of NSCLC, as well as the main molecular features of RANBP9. Moving on, we will then succinctly discuss RANBP9 in cancer generally, before focusing on the role of RANBP9 specifically in the cellular response to DNA damage of NCSLC cells.
Introduction
Ongoing investigations
Studying the role of RANBP9 in the context of cellular response to stress and DNA damage is a major focus of our group. We are currently exploring three specific aspects of RANBP9 biology in response to genotoxic stress. The first is the close association of RANBP9 with the "guardian of the genome" known as p53[65]. The second relates to the mechanisms underlying the augmented sensitivity to DNA damaging drugs caused by the lack of RANBP9. Finally, we also consider the potential partial functional redundancy of RANBP10. Due to the presence of high homology, this second Scorpin (Spry-COntaining Ran binding ProteIN) and paralog cannot be ignored, and it is likely a major confounding factor in establishing the importance of RANBP9[66,67].
RANBP9 and p53 in the DDR
As a consequence of impairment of ATM signaling in the absence of RANBP9, we have reported that phosphorylation of p53 on Serine 15 is severely compromised, affecting the total expression of p53 as shown in Figure 3[50,56]. The relationship between RANBP9 with p53 is likely more complex than anticipated and worthwhile to be further investigated. Although an interaction has been previously described between RANBP9 and a specific isoform of p73 by co-IP and colocalization, three groups including ourselves have failed to demonstrate a physical interaction between RANBP9 and p53 by co-IP[42,68] (and Coppola, unpublished results). Nevertheless, a high throughput study reported a co-IP between RANBP9 and the p53 R273H mutant that needs to be further validated[69]. In summary, it appears that the effects of the absence of RANBP9 on p53 total and phosphorylation levels upon DNA damage are indirect. How the absence of RANBP9 negatively affects ATM-kinase remains to be clarified, but the blunted ATM activity could potentially explain the decrease in p53 levels. On the other hand, an impaired ATM signaling may be only one of the possible mechanisms through which RANBP9 affects p53 abundance and activity. Considering that p53 is degraded by MDM2[70], an unexplored explanation for our findings is that a potential functional link exists between RANBP9 and MDM2. Alternatively, RANBP9 has been reported to co-localize with Tip60 (a.k.a. KAT5)[71]. Tip60 mediates histone dynamics in conjunction with PARP1[72,73]. Although the acetylation by Tip60 of ATM has recently been put into question[74], it is undisputed that Tip60 acetylates and stabilizes p53[75]. It is therefore possible that the absence of RANBP9 further impinges on the stabilization of p53 operated by Tip60 [Figure 4]. Tip60 acetylates p53 on K120, which is crucial for p53-dependent apoptosis[76].
Figure 3. The absence of RANBP9 causes a marked reduction of p53 levels in NSCLC cells subject to genotoxic stress. Two independent A549 RANBP9 WT controls and RANBP9 KO clones were exposed to 10 μmol/L CDDP for 24 h. WB shows that RANBP9 KO cells have a severe reduction of total p53 levels. This is likely due to the blunted p53 phosphorylation of Serine 15, which is a target of the ATM kinase (as shown in Palmieri et al.[56], 2016 and Tessari et al.[50], 2018). RANBP9: RAN binding protein 9; NSCLC: non-small cell lung cancer; KO: knockout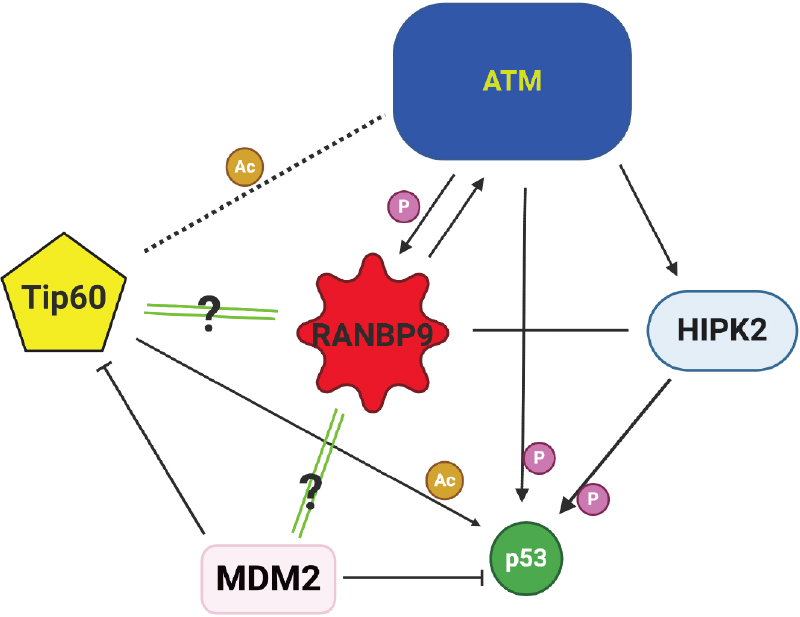 Figure 4. Schematics of the ATM-p53-Tip60-MDM2-HIPK2-RANBP9 potential connection in NSCLC cells subject to genotoxic stress. RANBP9 appears to be at the center of an intricate network determining cell fate during DDR. Green double lines with question marks indicate active areas of investigation. RANBP9: RAN binding protein 9; ATM: ataxia telangiectasia mutated; NSCLC: non-small cell lung cancer; HIPK2: homeodomain-interacting protein kinase 2
RANBP9 was also reported to have interaction with the homeodomain-interacting protein kinase 2 (HIPK2)[77], causing phosphorylation of p53 on Serine 46 in situations where the DNA damage is beyond repair. Similarly to the K120 acetylation, the phosphorylation of this residue is particularly important in deciding the fate of the cell upon DNA damage and would be in line with the suggested role for RANBP9 in mediating apoptosis[40,78]. To complicate the jigsaw regarding the relationship of RANBP9 with ATM, p53, and HIPK2, the latter kinase was degraded via a p53-controlled pathway during recovery from sub-lethal DNA damage[79].
Altogether, RANBP9 appears to be intricately linked to p53 on multiple levels following DNA damage. Therefore, RANBP9 levels play an important role in fine-tuning the activity of the guardian of the genome [Figure 4].
The absence of RANBP9 confers sensitivity to DNA damage
From a clinical point of view, the absence of RANBP9 renders cells more sensitive to DNA damaging agents such as IR and CDDP, but also to inhibitors of ATR or PARP. This warrants a pre-clinical investigation of RANBP9 as a potential target of therapy which may serve to ameliorate the cancer cell response and resistance to these drugs. However, it is also worthwhile to systematically test RANBP9 KO cells for drug sensitivity and attempt to find additional vulnerabilities caused by the absence of this protein. In fact, RANBP9 is associated with pathways other than the DDR and consequently its absence might result in fatal damage to cancer cells.
RANBP10 may partially compensate for the absence of RANBP9
To date, the study of RANBP9 has largely ignored the existence of the highly homologous RANBP10, which shares four out of five protein-protein interaction domains[47]. The genetic deletion of these two proteins consequently results in two very different phenotypes[35,36,80]. However, considering the similarity in protein sequences and genomic organization, they appear to have evolved as duplication of the ancestral yeast Gid1[28,29]. We proposed that these proteins may have partially overlapping functions and RANBP10 has been found to be post-translationally modified following DNA damage[66,81-83].
From an experimental perspective, it is conceivable that the similarities between the two Scorpins hinders a clear identification of RANBP9 and nullifies the functional effects of RANBP9 deletion. To test this hypothesis, it will be necessary to perform experiments by deleting both RANBP9 and RANBP10 simultaneously.
Finally, a partial redundancy between the two Scorpins would also explain in part why these genes alone are rarely linked with susceptibility to DNA damaging agents.
Using CRISPR/Cas9, we have recently engineered a novel murine model in which RANBP9 is tagged at the C-terminus with both V5 and HA (RANBP9 with double Tag = RanBP9-TT). This model has been validated through the use of immunohistochemistry and by coimmunoprecipitation, showing that the expression and interactions of the tagged protein faithfully recapitulates those of the wild type RANBP9. This new murine strain will be instrumental in obtaining data in vivo about the RANBP9-immunocoprecipated proteome, without the risk of using antibodies that may recognize RANBP10[84].
Conclusive remarks and future perspectives
It is clear that treatment of cancer with modalities based on the administration of a single therapeutic agent is rarely successful, whilst combined therapies are more efficacious in the clinical setting. Rationalized drug combinations in anticipation for precision medicine should be developed based on the mechanisms which allow cancer cells to resist and thrive. In particular, RANBP9 has been linked to cell proliferation, cell death, cell adhesion and migration. It has been shown to interact with Receptor Tyrosine Kinases at the membrane, intracellular messengers, and nuclear transcription factors[30,85]. In light of these multiple links with critical signaling pathways and critical biological processes, RANBP9 potentially provides a target to block important mechanisms of cell resistance to therapy. Therefore, our group and others have proposed RANBP9 as potential target for cancer therapy[50,56,85]. However, this protein is ubiquitously expressed and additional work will be required to take this translational concept to the clinics.
Firstly, we have not fully elucidated the molecular role of RANBP9 is in the DDR. The nuclear accumulation within hours after genotoxic stress suggests the participation of RANBP9 in the resolution of the damage. Apart from being constitutively expressed in the CTLH E3 ligase complex, RANBP9 has also been physically linked to the proteasome[86]. Therefore, it is conceivable that it mediates the turnover of proteins that are directly involved in the repair of DNA that need to be disposed of according to the tightly concerted choreography of the DDR[87,88].
With regards to the subnuclear localization of RANBP9 during the DDR, a question which remains is whether RANBP9 is physically present at sites of damage. Novel tools such as the cell and mouse lines with the endogenous RANBP9 tagged may be instrumental in answering this in-vivo question.
In addition, Tip60 modulates the acetylation of DNA following cellular damage[89,90]. Whether the absence of RANBP9 results in differences in histone acetylation should be a major topic of investigation.
For future clinical management and stratification of patients, a thorough investigation on the outcomes of treatment in the absence of RANBP9 should be conducted using cells containing different mutational status of p53[91]. With regard to this, the p53 pathway is the main regulator of cell metabolism[92-94]. Recently, RANBP9 has been shown to impinge on crucial metabolic nodes such as AMPK and MTOR signaling including processeses such as autophagy[53]. Therefore, the metabolic consequences as a result of the absence of RANBP9 should be investigated to ascertain whether drugs targeting specific metabolic pathways should be used in combination with DNA damaging agents.
In summary, RANBP9 is highly expressed in NSCLC, participating in critical signaling pathways. Therefore, targeting this specific protein may significantly weaken the ability of tumor cells to survive and proliferate when treated with DNA damaging or other types of drugs. Similar consideration may be made with other malignancies in which RANBP9 has been found to be highly expressed.
Declarations
Authors' contributions
Performed experiments: Tessari A, Soliman SHA, Orlacchio A, Capece M, Palmieri D
Elaborated data, prepared figures: Tessari A, Soliman SHA, Palmieri D
Read and edited the manuscript: Amann JM, Visone R, Carbone DP, Palmieri D
Conceived research, wrote manuscript, prepared figures: Tessari A, Palmieri D, Coppola V
All authors approved the manuscript.
Availability of data and materials
Not applicable.
Financial support and sponsorship
This work was supported in part by funding provided by the Ohio State University Comprehensive Cancer Center (P30 CA016058).
Conflicts of interest
The authors declare that they have no conflicts of interest.
Ethical approval and consent to participate
Not applicable.
Consent for publication
Not applicable.
Copyright
© The Author(s) 2020.
Cite This Article
OAE Style
Tessari A, Soliman SHA, Orlacchio A, Capece M, Amann JM, Visone R, Carbone DP, Palmieri D, Coppola V. RANBP9 as potential therapeutic target in non-small cell lung cancer. J Cancer Metastasis Treat 2020;6:18. http://dx.doi.org/10.20517/2394-4722.2020.32
AMA Style
Tessari A, Soliman SHA, Orlacchio A, Capece M, Amann JM, Visone R, Carbone DP, Palmieri D, Coppola V. RANBP9 as potential therapeutic target in non-small cell lung cancer. Journal of Cancer Metastasis and Treatment. 2020; 6:18. http://dx.doi.org/10.20517/2394-4722.2020.32
Chicago/Turabian Style
Tessari, Anna, Shimaa H. A. Soliman, Arturo Orlacchio, Marina Capece, Joseph M. Amann, Rosa Visone, David P. Carbone, Dario Palmieri, Vincenzo Coppola. 2020. "RANBP9 as potential therapeutic target in non-small cell lung cancer" Journal of Cancer Metastasis and Treatment. 6: 18. http://dx.doi.org/10.20517/2394-4722.2020.32
ACS Style
Tessari, A.; Soliman SHA.; Orlacchio A.; Capece M.; Amann JM.; Visone R.; Carbone DP.; Palmieri D.; Coppola V. RANBP9 as potential therapeutic target in non-small cell lung cancer. J. Cancer Metastasis. Treat. 2020, 6, 18. http://dx.doi.org/10.20517/2394-4722.2020.32